How a stage four cancer patient inspires hope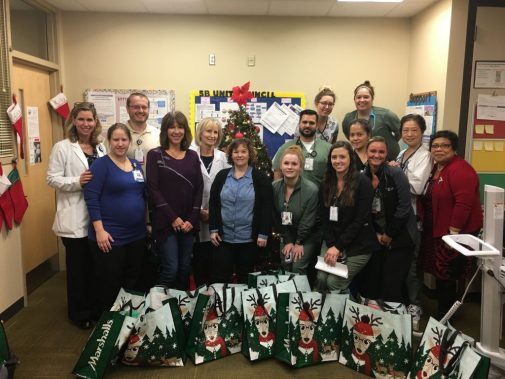 Sara Klaus, a medical coder and a self-described blissfully happy person, is grateful for another year to be alive and give back to patients who are battling cancer.
In 2009, Klaus was having medical issues and went to her GI doctor. She completed a colonoscopy, CT Scan and an MRI, uncovering a huge tumor growing in her bile ducts near her liver. Her doctor referred her to Dr. John Brems, a surgeon at Advocate Sherman Hospital in Elgin, Ill., and head of their Center for Advanced Liver & Pancreatic Care.
He diagnosed her with Cholangiocarcinoma, a cancer that forms in the bile ducts that carry the digestive fluid bile. Bile ducts connect the liver to the gallbladder and to the small intestine. It is also referred to as bile duct cancer and is an uncommon form of cancer.
Klaus would then have to have two more surgeries with Dr. Brems as the cancer moved to her lymph nodes in 2010 and then in 2012.
"Dr. Brems did my third surgery for just one lymph node!" exclaims Klaus, "No other surgeons would have done that surgery for me, which makes him more genuine and inspiring to me."
Klaus has also experienced eight chemoembolizations, which places radioactive beads into a blood vessel feeding cancerous tumors to cut off the tumors' blood supply and trap the chemotherapy within. It is most often used to treat liver cancer.
To give back, Klaus and her friend, Mary Elise Hosler (papillary thyroid cancer survivor since 2007), visited Sherman Hospital during the holiday season. They met the nurses in the inpatient oncology unit to share their story and to explain their 'Bags of Hope' donations for oncology patients.
The two donated 32 bags filled with croqueted and quilted blankets (made by friends), activity books, lip balm, tissues, peppermints, wipes and other comfort items that they both say they appreciated when recovering from surgeries and treatment.
This was their first year dropping off to Advocate Sherman patients.
"It is the one hospital that I feel at home in, and they make me feel comfortable," remarks Klaus. "They are kind and nurturing, and they also have good food!"
Related Posts
Comments
About the Author
Jennifer Benson, health enews contributor, is coordinator of public affairs for Advocate Health Care and Aurora Health Care. She has 10+ years of community development and communication experience for non-profits and has a BA in Architecture from Judson University in Elgin, IL. Outside of work, you can find her planning the next adventure near water or rocks, re-organizing spaces, working on her Master's in Public Health, caring for her senior citizen cat, keeping to healthy moving and eating disciplines and growing green things wherever she can find room.