Can the way you speak contribute to obesity?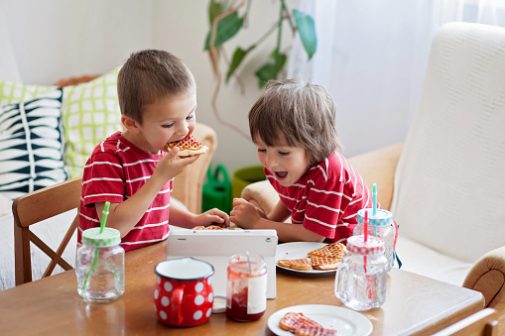 Could the way you talk to your child contribute to obesity?
A small study by researchers at the University of Michigan notes a difference in communication between parents of obese children and parents of those who are not.
The study found that when obese children were offered cupcakes, their parents made direct commands, like "Only eat one." Parents whose children were not obese had a more subtle, guiding approach, saying things like "That's too much – you haven't had dinner."
"It's an interesting study," says Dr. Matthew Smiley, a pediatrician and medical director of the Healthy Active Living Program at Advocate Children's Hospital.
"It raises an interesting question of cause and effect. Are the direct, restrictive statements used by parents of the obese children the result of the fact that their kids are obese, and they are paying more attention and trying to limit their portions? Or, are these statements a reflection of an overly-restrictive parenting style, which can be associated with overeating and bad choices, and therefore a contributing factor to the child's obesity?
In general, more direct statements are usually easier for kids to interpret. But, when it comes to eating and weight, the jury is out.
"I think the study does bring to light the role that parenting style plays in our children's eating habits," says Dr. Smiley. "Most people recognize that being 'overly-permissive' (i.e., letting a child eat whatever, whenever, wherever and however much they want) is not healthy. But being 'overly-restrictive' (i.e., not allowing ANY sweets or treats), has been shown to contribute to unhealthy eating habits, and more importantly, an unhealthy relationship with food and eating. This can lead to overeating and obesity."
If nothing else, Dr. Smiley appreciates the attention given to the social stigma around childhood obesity.
"Unfortunately, many people believe that childhood obesity is caused by "bad parenting," or that the children and their parents are "lazy," and that's why they struggle with their weight, "says Dr. Smiley. "This is often not the case. This study shows how many parents of obese children are trying to monitor their kids' habits, but struggle with the best way to approach it."
Related Posts
Comments
About the Author
Evonne Woloshyn, health enews contributor, is director of public affairs at Advocate Children's Hospital. Evonne began her career as an anchor and reporter in broadcast news. Over the past 20 years, she has worked in health care marketing in both Ohio and Illinois. Evonne loves to travel, spend time with family and is an avid Pittsburgh Steelers fan!