Dry eyes? For some, relief may come through the nose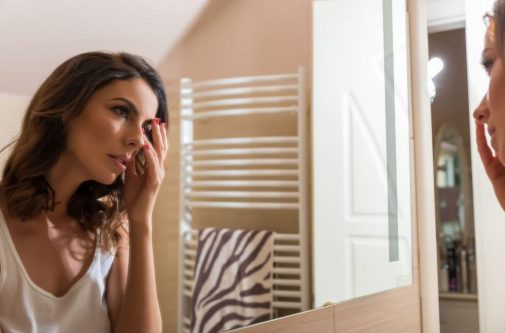 Are you one of the millions of Americans who suffer from dry eyes? A new device may one day be a solution for you, using your tears – via your nose – to fuel your relief.
A team from the Cincinnati Eye Institute presented a study at the American Academy of Ophthalmology examining the effectiveness of a new handheld neurostimulator device called "TrueTear." The device is inserted into the nose of dry eye sufferers to produce tears, easing symptoms.
In a healthy eye, lubricating tears made up of a combination of fatty oils, water, mucus and proteins continuously bathe the cornea each time you blink.
Dr. Sunil Raichand, an ophthalmologist at Advocate Good Samaritan Hospital in Downers Grove, Ill., says dry eye often occurs when there are too many tears, too few tears or the quality of your tears is lacking.
"It seems like half my patients have ocular dryness to some degree," he says. "Dry eye is a billion dollar industry. It occurs most frequently with older women, then younger women, older men and younger men."
Generally, dry eye causes a scratchy sensation or the feeling of a foreign body in the eye, according to the National Eye Institute. It can also cause stinging or burning, discharge, pain and redness in the eye.
Many patients begin on artificial tear regiments to combat dry eyes, often escalating to prescription medication or "punctal plugs," a small medical device inserted into the tear duct of an eye to manage the amount of tears going to the eye, Raichand says.
This device's effect is comparable to the reaction your eyes have when you cut onions, as it produces a complete tear, containing all the elements in natural tears. Because of this, Raichand says it will specifically help those whose problem is tear quantity.
Tests showed patients' tear level was significantly higher after the nasal simulation, and subjects reported it was easy to use and they suffered no side effects, according to the study.
Though electronic devices have been tested previously, Raichand says it could be a win for many patients if it catches on.
"It could help limit ongoing costs to patients, would likely have little to no side effects and could dramatically increase the level of compliance," he says.
Related Posts
Comments
About the Author
Nathan Lurz, health enews contributor, is a public affairs coordinator at Advocate Good Samaritan Hospital. He has nearly a decade of professional news experience as a reporter and editor, and a lifetime of experience as an enthusiastic learner. On the side, he enjoys writing even more, tabletop games, reading, running and explaining that his dog is actually the cutest dog, not yours, sorry.