Ready to save a life anytime and anywhere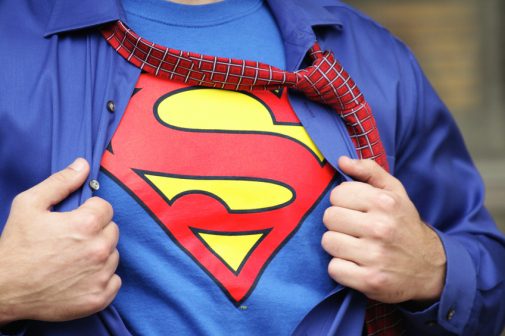 Many people view doctors as superheroes. After all, they live and work to save lives every day.
But when you ask Dr. Mohammed Samee, an internal medicine physician at Advocate Illinois Masonic Medical Center in Chicago, what inspired him to pursue medicine, his answer is one many of us can identify with: For this particular superhero physician, Dr. Samee's own superhero is his mom.
"My mom had a very strong influence in my decision to become a physician," Dr. Samee says. "My younger brother was diagnosed with hemophilia a few days after he was born. Because of that, my mom went back to school to become a registered nurse."
During this time, Dr. Samee witnessed firsthand his mother's work ethic and dedication to the art of nursing as she balanced full-time work and a family. Surrounded by his mom's nursing school textbooks, Dr. Samee was also exposed to science in a way that most middle schoolers aren't, and he constantly fed his voracious appetite for science by diving into his mom's anatomy and biology books.
Following high school, Dr. Samee followed in his mom's footsteps and completed nursing school. After working as a nurse in the cardiothoracic ICU for a year at a New York hospital, he went to medical school. He completed his residency at Advocate Illinois Masonic and has been working there ever since.
By his own admission, Dr. Samee didn't realize how his journey through nursing and medical school would equip him with the special ability to heal so many people.
"In my head, medicine was always an intellectual pursuit, and I loved that it was a challenge to gain such specialized knowledge. But after I became a physician at Advocate Illinois Masonic, I started to experience firsthand the power of this knowledge and how I could help so many people," Dr. Samee says.
To this day, Dr. Samee carries his signature doctor's bag filled with tools of the trade, including a stethoscope, pen light and airway mask, so that he can help save a life, anytime and anywhere. His passion for saving lives extends outside the four walls of Advocate Illinois Masonic, where he and his family run a free health clinic for the uninsured and disadvantaged.
"I have the privilege of having this specialized knowledge, and I can use it to help someone who is in need of this knowledge but doesn't have access to it," Dr. Samee says. "I feel lucky and grateful to be able to do what I do every day. I'm thankful to my mom, my dad and my faith for constant support and guidance."
Click here to learn more about Dr. Samee or to schedule an appointment. 
Related Posts
Comments
About the Author
Jaimie Oh, health enews contributor, is regional manager of public affairs and marketing at Advocate Health Care. She earned her Bachelor's Degree in Journalism from the University of Missouri-Columbia and has nearly a decade of experience working in publishing, strategic communications and marketing. Outside of work, Jaimie trains for marathons with the goal of running 50 races before she turns 50 years old.