New imaging technology may help with hard-to-detect tumors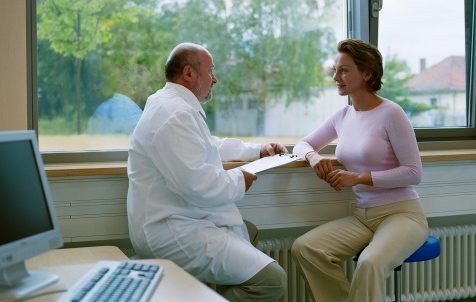 Doctors agree: early detection and regular mammograms are key to combating breast cancer.
But what do you do if traditional mammograms don't work for you?
That is a problem affecting many women across the world with dense breast tissue.
Breasts are made up of a varying mix of glandular tissue, ducts, fibrous tissue and fat. Those who have a lot of fibrous or glandular tissue in their breasts – as many as four out of 10 women – are said to have "dense" breasts.
But while it is common, it still carries risk, as dense breasts can impede the identification of some tumors, says Dr. Josie Kim, the medical director of the Advocate Good Samaritan Hospital Breast Imaging Center. Additionally, dense breast tissue can increase a woman's risk for developing breast cancer by up to four to six times.
Many women require more specialized testing, though some don't even know they have dense breasts.
"Clearly, there is a need for women to be properly informed of their risk and screening options," Dr. Kim says.
Many states have now proposed or passed legislation mandating that screening mammography patients demonstrating greater than 50 percent breast density should be informed of their breast density and the limitation of screening with mammography alone, she says.
To help aid in screening efforts, Advocate Good Samaritan Hospital's breast health program recently added the FDA-approved Invenia Automated Breast Ultrasound System – or ABUS – 3-D breast ultrasound machine for women with dense breast tissue.
ABUS improves cancer detection by 40 percent over mammography alone in women with dense breasts while still offering the same non-invasive and radiation-free method of examination. The device screens for additional cancers that may not be seen on mammography in women with dense breast tissue.
The American Cancer Society still recommends regular mammograms for most women, but those screenings alone can still miss more than a third of breast cancers in dense tissue, Dr. Kim says.
You are more likely to have dense breasts if you:
Are younger: Women in their 40s and 50s are most likely to have dense breast tissue. In many women, breast tissue tends to become less dense as they age.
Are premenopausal
Take hormone therapy for menopause
Want to know if this new technology is right for you? Be sure to ask your obstetrician/gynecologist.
Related Posts
Comments
About the Author
Nathan Lurz, health enews contributor, is a public affairs coordinator at Advocate Good Samaritan Hospital. He has nearly a decade of professional news experience as a reporter and editor, and a lifetime of experience as an enthusiastic learner. On the side, he enjoys writing even more, tabletop games, reading, running and explaining that his dog is actually the cutest dog, not yours, sorry.