They call him Lazarus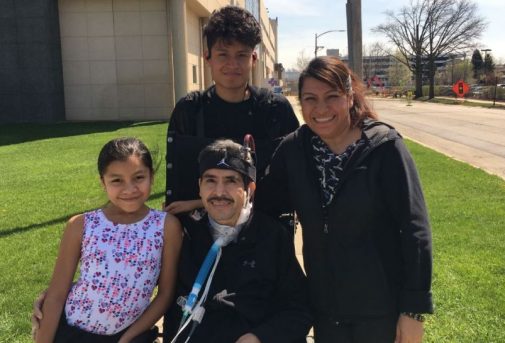 In October of 2016, Gustavo Raya witnessed a car theft. The thief drove the car down the street going the wrong direction at 100mph and slammed into Gustavo's car, causing him to hit his head on the window shield. Stuck in the collision, his seat had to later be cut with a saw to get him free.
"It's hard to recall all of the details, but I remember my legs being bent and twisted the wrong way. It felt as if my entire body was broken," he says.
Gustavo was taken to Advocate Christ Medical Center in Oak Lawn, Ill., where trauma and cardiovascular teams worked tirelessly and urgently to save his life.
Dr. Christopher Wigfield, a thoracic surgeon at Advocate Christ, says Gustavo had multiple serious fractures and internal organ injuries. With such life-threatening injuries, it's remarkable he even made it to the hospital.
In November of 2016, Gustavo required extracorporeal membrane oxygenation, or ECMO, for Acute Respiratory Distress Syndrome (ARDS), also known as shock lung syndrome.
"Shock lung syndrome is a potentially lethal failure of the lung," explains Dr. Charles Alex, a transplant pulmonologist at Advocate Christ. "We braced his wife, Rosalva, that he may never fully recover or be himself again."
Nevertheless, Rosalva refused such a fate.
"I believed in my heart and gut that he was going to make it and be okay. I knew it would be hard, and that we would suffer a great deal, but I had faith," she says.
Despite all efforts, Gustavo's oxygen levels remained critical and left him requiring the support of ECMO for 189 days. Only then, after roughly six months, did Gustavo surprise nearly everyone but his wife by making a near full recovery.
Initially, it was expected that he would be incoherent or unaware of what was going on, but almost immediately, he began calling Rosalva and their son by their "special names."
"Right away, he'd call out to me and say 'Rossy,' or to my son, 'my big boy.' He wasn't confused, he knew who we were and that we were there," Rosalva recalls.
Yet, despite recovering from all the internal fractures and organ failures and surviving 189 days with ECMO, this isn't the most remarkable part of his story – believe it or not.
Physicians informed Rosalva and Gustavo that he would need a lung transplant.
"At this point, the only thing that barred Gustavo from a full recovery was his now permanently damaged lung," says Dr. Alex. "To be considered for the transplant and put on the list, he would have to achieve several milestones such as demonstrating that he could eat, drink and walk by himself."
These tasks seemed far from reach in Gustavo's current state. At the time, Gustavo was unable to even move a finger. He would need to re-learn everyday skills, and physicians thought he might not make it to the transplant. Nonetheless, Rosalva once again refused to believe such a fate.
"He had to make it. I was going to make him do it," she says. "You would never think about having to be so strong in your life, but he has always been my rock. I thought about what life would be like if he wasn't there. I needed him to do it not just for me, but for our kids."
Rosalva remembers that she would move Gustavo's muscles by pulling his eyebrows up and down and help him move his muscles to remember how to smile. She would do any task, no matter how small or big so long as she thought they could help.
Once again, her determination helped Gustavo excel. In April, six months after arriving at the hospital, physicians allowed him to take the tests needed to confirm he could be put on the transplant list. On April 26, 2017, Gustavo and Rosalva's 23rd Anniversary, Gustavo was officially put on the list.
Then, after eight months of aggressive physical, occupational and speech therapies, Gustavo received a lung transplant in May of 2017.
Today, Gustavo is alive and on his way to making a full recovery as a result of his wife's endless devotion, the tireless and compassionate care of the Adult Surgical Heart Unit and nursing staff, and the expertise of his physicians at Advocate Christ. As you can imagine, his 17-year-old son, Gustavo Jr., and 13-year-old daughter, Sydney, are happy to have him home and getting stronger every day.
Dr. Wigfield says Gustavo's recovery is extraordinary. Specifically, Gustavo is the first documented patient to make a full recovery from a lung transplant after surviving with the help of ECMO for so long.
Advocate Christ's department of rehabilitation awarded Gustavo with the Adult Inpatient Rehabilitation Award, and Dr. Wigfield fondly calls Gustavo "Lazarus," who in the bible rises from the dead after four days.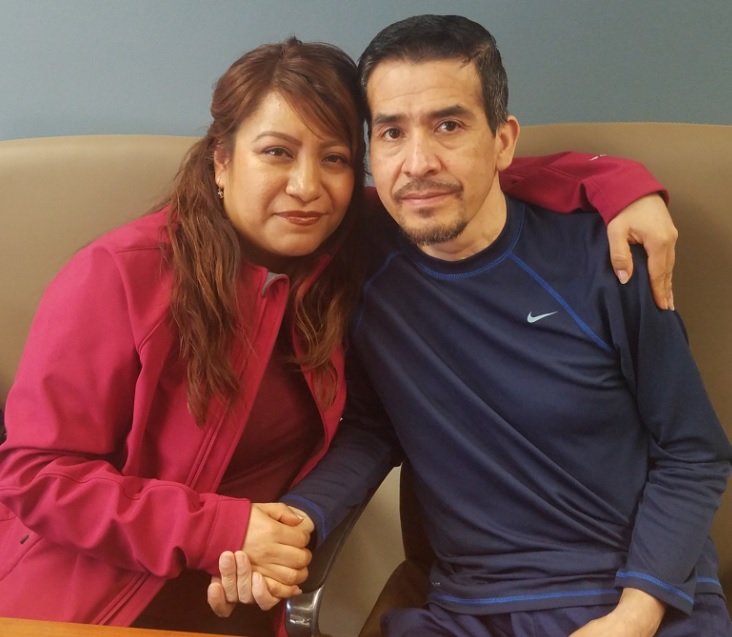 Related Posts
Comments
About the Author
health enews staff is a group of experienced writers from our Advocate Aurora Health sites, which also includes freelance or intern writers.