"A liver from a living donor?"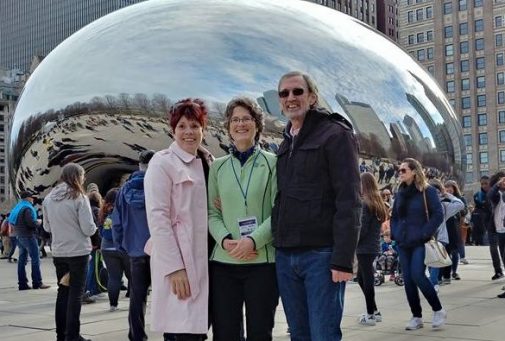 How is it that someone who fainted when she got her ears pierced could volunteer to have a chunk of her liver cut out to help a colleague's husband?
Just ask the one with the pierced ears, Amy Waters, a pharmacist at Advocate Good Shepherd Hospital in Barrington, Ill.
"I was raised to believe if you can help someone, you need to help them," Amy says. "Someone needed help. I was able to help. Of course I had to do it."
Just to be clear, Amy didn't faint only when she had her ears pierced years ago at age 16. She also has fainted while vials were being drawn for her own tests on several occasions. But the desire to act altruistically by donating 70 percent of the right lobe of her liver to her colleague's spouse outweighed the fear of temporarily passing out.
Today, Pharmacy Tech Barbara Stewart's husband, Robert, is doing just fine. But several years ago, that wasn't the case. Robert's liver was destroyed after suffering for years with hepatitis C that he acquired after a blood transfusion. The day Barbara learned her husband needed a liver transplant from a living donor, she arrived at work distraught and shared the news with the Good Shepherd Hospital pharmacy team. Liver donations can come from deceased donors or living donors. Due to the stage of his illness, Robert was a candidate for a living-donor transplant.
"I remember going to work that day in total shock, thinking, 'What does this mean; how do you get a liver from a living donor?" Barbara recalls. "'Where do you even begin?'"
Barbara's words were not directed to anyone in particular, but Amy, who happened to be at the hospital only because she was picking up an extra shift, took them to heart. She decided to get tested to see if she was a match. After learning that she was, she approached Barbara to tell her she wanted to be Robert's liver donor.
"I just couldn't believe it," Barbara says. "It was the most incredible thing."
The surgery took place in the summer of 2016. Surgeons removed 70 percent of the right lobe of Amy's liver and transplanted it into Robert during an operation that lasted 13 hours for him. Today, Amy's liver has regenerated. Robert, an artist, is back to creating breathtaking pieces of glass artwork. On April 22, 2018, all three were at Cloud Gate (the "Bean") in Chicago, for a gathering of the most living donors ever in one place.
"The official count needs to be verified, but they believe the record was broken with 438 donors," Barbara says. "It was quite a moving experience seeing all those donors being honored and all the people who were there to let them know how significant what they did was. We were all so happy to be a part of something so amazing and to be able to bring awareness to others."
Nearly 6,000 living donations take place each year, according to organdonor.gov. That's about four out of every 10 donations.
Living donors potentially can donate one of their two kidneys, one of two lobes of their liver, a lung or part of a lung, part of the pancreas or part of the intestines. Tissue and bone marrow also can be donated by living donors.
There are advantages to living-donor transplants compared with deceased-donor transplants, including planning the timing of the operation and ensuring that the organ is coming from a healthy donor.
For Amy, once she made the decision to be tested, she was resolute in her determination to become a donor.
"If I'm a match, it's a go. That's how I felt about it," Amy says, to which Barbara adds, "That's why we call her Amazing Amy."
Related Posts
Comments
About the Author
Kathleen Troher, health enews contributor, is manager of public affairs and marketing at Advocate Good Sheperd Hospital in Barrington. She has more than 20 years of journalism experience, with her primary focus in the newspaper and magazine industry. Kathleen graduated from Columbia College in Chicago, earning her degree in journalism with an emphasis on science writing and broadcasting. She loves to travel with her husband, Ross. They share their home with a sweet Samoyed named Maggie.