Warning: This simple summer habit is harming marine life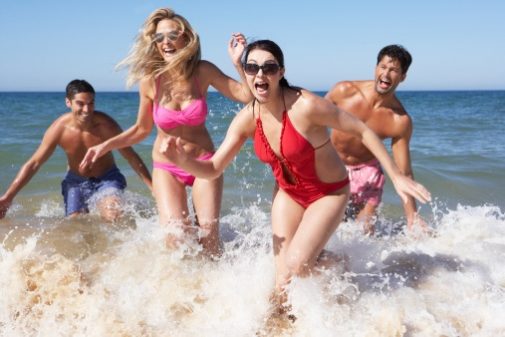 Few debate the need to wear sunscreen to protect from harmful rays that cause skin cancer. However, many sunscreens have environmental consequences, dumping chemicals into oceans, lakes and rivers. In fact, Hawaii is preparing to ban the sale of certain sunscreens that contain chemicals known to be toxic to coral reefs and marine life.
Oxybenzone and octinoxate, two chemicals found in numerous sunscreens, have been shown to leach coral of its nutrients and cause developmental issues for sea life including fish, sea urchins and algae.
Don't think slathering on a little sunscreen and jumping in the water makes that much difference? The chemicals in even one drop of sunscreen are enough to damage fragile coral reef systems, according to a study conducted by a team of international scientists and published in the journal Archives of Environmental Contamination and Toxicology.
If one drop can cause damage, imagine the destruction 14,000 tons of sunscreen that makes its way to coral reefs around the world each year can do. This amount of sunscreen leaking into our environment is concentrated in popular destinations like Hawaii and the Caribbean, according to the research.
There is a solution – numerous nontoxic brands are skipping oxybenzone and octinoxate, and replacing them with ingredients like titanium oxide or zinc oxide. But are they as effective?
"As an avid scuba diver, I applaud the action of environmental groups to help save the corals and marine life from bleaching and other destruction," says Dr. Michael Jude Welsch, a dermatologist affiliated with Advocate Christ Medical Center in Oak Lawn, Ill. "As we become more aware of the environmental effects of sunscreen use on the natural environment, it is important to differentiate sun screens from sun blockers.
Dr. Welsch explains that sunscreens contain organic compounds that act against the UV light and change the radiation to heat, which is released from the skin. In contrast, sun blockers work by forming a barrier against the sun's rays, actually reflecting the sun's UV lights.
"I most often recommend titanium and zinc products to my patients," says Dr. Welsch. "Although they are thicker products, I believe they provide the best protection."
"Don't forget, simple and important measures, such as proper clothing, hats and sunglasses, help protect your skin from the harmful effects of the sun while having minimal impact on the environment," Dr. Welsch says.
Related Posts
Comments
About the Author
Kate Eller was a regional director of public affairs and marketing operations for Advocate Health Care. She enjoys road trips, dogs, minimalism, yoga, hiking, and "urban hiking."