When is the perfect time to drink coffee?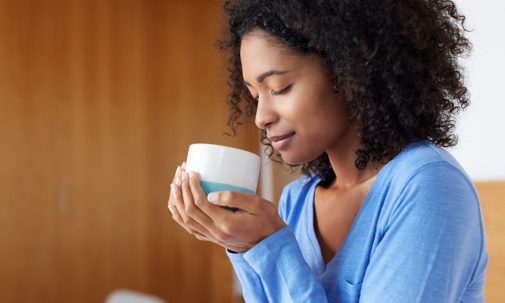 For many people, coffee is the first thing on their mind after waking up and what they rely on for energy to start the day. Some people continue to sip on their commute, at work or after lunch or dinner to stay alert. According to the National Coffee Association, 64 percent of Americans consume coffee every day, and that number has only been on the rise with the gourmet brewing trend.
Because caffeine has proven to be an effective agent to fighting general sleepiness, many Americans find themselves dependent on it. So what if we could pinpoint the best time to consume it?
In a recent study published in the Journal of Sleep Research, scientists introduced a technology they are developing in order to compute individual predictions of your body's needs to indicate the most beneficial time to take a coffee break.
United States Army researchers developed a mathematical model, called the unified model of performance, that uses data to make accurate predictions per each person's different needs. This system was developed for soldiers to examine when they felt the drowsiest based on a number of factors, such as amount of sleep and time of day, in an attempt to make coffee intake more efficient. The system led to soldiers drinking the same or lesser amounts of coffee but allowed them to feel better with more functional cognitive effects.
Using this model, the 2b-alert web tool is being constructed and will work in coordination to soon be able to make individual predictions. This means you will be able to put in your own data to see specific recommendations on when to drink coffee to be more wakeful.
"Coffee has many upsides, such as alert cognition and energy boosts," says Dr. Jacqueline Ivey-Brown, an internal medicine physician at Advocate Christ Medical Center in Oak Lawn, Ill. "But nothing can replace the healthy effects of getting, on average, a good eight hours of sleep per night."
She urges coffee drinkers to be mindful of the added sugar because sweetened beverages provide empty calories that can lead to weight gain over time.
"Be careful what you are adding into your coffee to avoid the extra calories and sugar," she advises. "Too much weight gain places you at risk for diseases like diabetes."
In addition to staying energized with coffee, Dr. Ivey-Brown recommends a healthy diet, quality sleep and exercise to help keep alert.
Related Posts
Comments
About the Author
Allison Garetto, health enews contributor, is a public affairs intern at Advocate Christ Medical Center in Oak Lawn. She is a senior at the University of Illinois in Urbana-Champaign, where she is pursuing a degree in communication and a minor in psychology. Allison is a vegetarian, artist and travel enthusiast.