Former trauma patient keeps his promise to return to the hospital on his own terms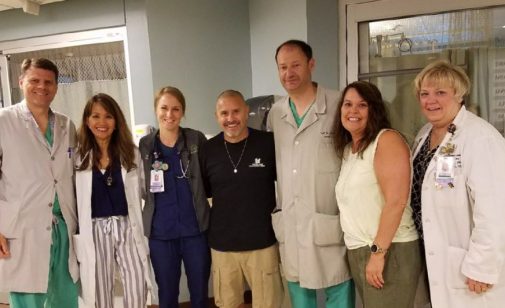 Eric Bradley was working on a site in North Chicago as a land surveyor last December when he was the victim of a hit-and-run. When found by a passing vehicle, he had been thrown over twenty feet and was unconscious. Eric was transferred by Flight for Life to Advocate Condell Medical Center in Libertyville, Ill.
Upon reaching the Level I Trauma Center, he became conscious long enough to recite the name and phone number of his girlfriend, Viki, who was four hours away at their home in Hillsboro, Ill., before being rushed into surgery. Eric's daughters Karlee and Katelynn raced to the hospital to be by his side.
"It was pretty serious when we first got here," Karlee says. "They told us that he may not make it through the night."
Eric underwent more than six hours of surgery to address a shattered pelvis, ten broken ribs, a lacerated liver and severe internal bleeding. The family spent the weeks leading up to Christmas at Eric's bedside as he floated in and out of consciousness and endured multiple follow-up surgeries to reconstruct his pelvis and repair organ damage.
After 19 days, Eric was transferred out of the ICU but would spend another five weeks at Advocate Condell before being released into Viki's care to complete the remainder of his recovery from home.
Advocate Condell trauma surgeon Dr. Scott Miller credits the fighting spirit of both Eric and his family for his recovery. "During the first several weeks of Eric's recovery, he was never alone," Dr. Miller says. "The constant support and dedication of his family played a major role in his recovery, not to mention Eric's own perseverance. He's a fighter."
Less than six months later, Eric, Viki and Karlee stopped by Advocate Condell to show the many physicians, nurses, technicians and other team members involved in his care the incredible progress he has made.
He and his family also came back to offer their gratitude. "We came here today to thank everyone who had a part in his recovery, because every single person makes a huge difference, whether they realize it or not," Viki says. "Without them, he wouldn't be here today."
"There are times in life when you cannot do it all on your own," says ICU nurse Peter Olakowski, who after spending countless hours caring for Eric during his time at Condell, sums it up best.
"Had things not aligned exactly as they did, Eric may not have made it," Peter explains. "The extent of how seemingly small acts add up to change a life are often lost in the hustle of every day. In the ICU, we don't always see happy endings, but lucky for Eric, he gets to write his."
Related Posts
Comments
About the Author
Katie Helander, health enews contributor, is a public affairs and marketing intern for Advocate Condell Medical Center in Libertyville, Ill. She is currently pursuing her BA in public relations and minors in international communication and Spanish at Illinois State University, where she also serves as the Chapter President of the Public Relations Student Society of America. In her free time, Katie enjoys theatre, traveling, working out, and learning new things. After graduation, she plans to pursue a career in international relations or with a major public relations agency.