Can fasting at night reduce your cancer risk?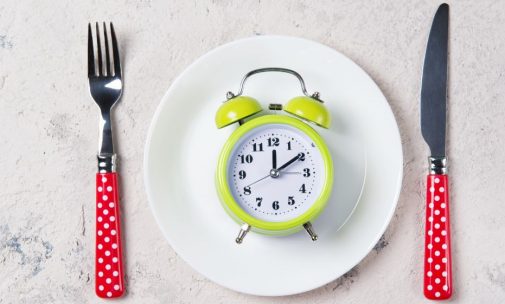 Is eating three meals a day a thing of the past? Intermittent fasting (occasional breaks from food) may sound questionable, but according to some health researchers, there is actual reasoning behind this phenomenon.
A 2016 study from JAMA Oncology looked at the relationship between 2,413 women who were diagnosed with early-stage breast cancer and fasting nightly. The researchers assessed whether or not fasting affected the women's chances of cancer reoccurring. They found women who fasted for less than 13 hours a night had a greater risk of breast cancer reoccurring — a 36 percent chance instead of those who fasted for more than 13 hours.
The researchers concluded not only what we eat, but the timing of when we eat can have an impact on our health – specifically when it comes to breast cancer. They acknowledge fasting for more than 13 hours has benefits because of a correlation between caloric intake and tumor growth.
"This may be linked to lower levels of blood sugar, reduced markers of inflammation, all associated with slower growth of some tumor types," says Dr. Heidi Memmel, co-medical director of Advocate Caldwell Breast Center and breast surgeon at Advocate Lutheran General Hospital in Park Ridge, Ill. "It may also be associated with a person's circadian rhythm and timing of insulin spikes, which can counteract melatonin and growth hormone release, which may also play a role in tumor growth or inhibition."
Another potential benefit? Fasting may also help improve cardiovascular problems. According to the study, eating food late at night can negatively impact cardiovascular health by creating a "misalignment of circadian rhythms." In turn, heart functionality may not pump at its normal pattern, causing a disruption in sleep patterns.
More severely, nightly eating can set back your metabolism, and it can also be more difficult to maintain glucose levels in the body. Consequently, fasting can help prevent these potential health issues while instilling valuable patterns for long-term well-being.
"If something as simple as restricting food intake for a prolonged period at night could help reduce the risk of developing breast cancer, or prevent its recurrence, this is an inexpensive and drug-free opportunity for women to cut their risk, plus potentially provide other health benefits," says Dr. Memmel.
Before trying intermittent fasting, or any related diet, confirm with your health provider first.

Our Breast Health Assessment estimates your five-year and lifetime risks of developing breast cancer.
Related Posts
Comments
About the Author
Kelsey Andeway, health e-news contributor, is a public affairs intern at Advocate Health Care in Downers Grove. She is a senior at Loyola University Chicago earning a bachelor's degree in Communication Studies with a minor in Dance. In her free time, Kelsey enjoys dancing, baking, and taking long walks with her Chocolate Lab.