Should you be getting screened for this type of cancer?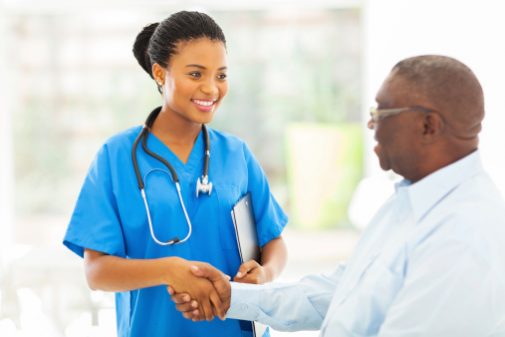 The U.S. Preventive Services Task Force recently updated their screening recommendations for prostate cancer, a disease that impacts one out of every nine men during his lifetime.
According to the latest recommendation, men aged 55 to 69 years should first have a discussion with their doctor about the benefits and risks of regular prostate-specific antigen (PSA) testing. Based on those discussions, men should make individual decisions about undergoing the PSA testing for prostate cancer. Some experts suggest that those in high risk populations, like African Americans and those with family histories of prostate cancer, should consider testing beginning at age 40.
Men who are 70 years and older should not undergo PSA-based screening for prostate cancer, according to the task force. Similar recommendations are proposed by the American Urological Association, American Cancer Society and American College of Physicians.
The reasoning behind the newest recommendation is that the benefits of PSA testing do not always outweigh the potential risks or harm.
"While a PSA test offers some benefit in detecting cancer early, the test is also associated with potential risks," says Dr. Mebea Aklilu, a medical oncologist at Advocate Illinois Masonic Medical Center in Chicago. "Risks include false positives that can cause men to unnecessarily worry, leading to other unnecessary testing and procedures that can affect quality of life like incontinence and sexual dysfunction."
As part of these discussions, patients should also discuss lifestyle habits and family history in deciding if PSA testing is the right choice, Dr. Aklilu adds.
If you are ready to talk to a doctor about prostate cancer and early detection, find one near you today.
Related Posts
Comments
About the Author
Jaimie Oh, health enews contributor, is regional manager of public affairs and marketing at Advocate Health Care. She earned her Bachelor's Degree in Journalism from the University of Missouri-Columbia and has nearly a decade of experience working in publishing, strategic communications and marketing. Outside of work, Jaimie trains for marathons with the goal of running 50 races before she turns 50 years old.