Ever eat fast food? Here's a rule of thumb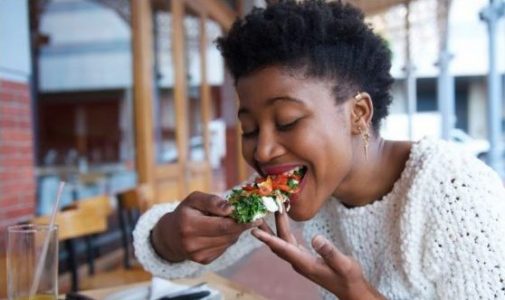 Let's face it. Some of us survive on take-out, and no celebrity chef nor grocery delivery service will entice us into cooking all our meals at home.
In fact, a recent survey estimates that 25 percent of Americans avoid cooking because they don't want to clean up afterwards. Another 21 percent say they can't squeeze time for cooking into their schedule.
"Many of us have the habit of eating on the go, but that doesn't mean we have to sacrifice our sensibilities for wise food choices," says obesity expert Dr. Tony Hampton, who practices family medicine at Advocate Trinity Hospital in Chicago. "Sticking to a high-fat, low-carb diet rich in fiber and avoiding processed foods is possible, even when home cooking is not on the menu."
"When you must eat convenience foods, the rule of thumb is to choose foods with low sodium, no additives and a small number of whole ingredients," Dr. Hampton says. He recommends reading food labels on restaurant menus and on supermarket-prepared foods marketed as healthier choices.
If fast food is your major source of nutrition, Dr. Hampton suggests choosing salads, particularly those containing avocado and unprocessed meats and cheeses. He also encourages fast foodies to choose better-for-you snacks like the following items available at most convenience stores and gas stations:
Fruit: More and more convenience stores offer single apples, oranges and bananas right by the checkout. According to one study, eating at least one piece of fruit daily can reduce heart attack by 40 percent.
Almonds: A significant source of protein and fiber, almonds promote heart health and prevent weight gain. They may even play a role in reducing risk for diabetes and Alzheimer's disease.
Bottled water: Staying hydrated is a major factor in staying healthy. While not everyone needs eight glasses of water a day, water helps your kidneys, skin, joints and brain stay healthy.
Guacamole: Avocado, tomatoes and spices make a tasty combination and a healthy snack. Be sure to read labels and choose low-sodium varieties with few preservatives.
Nutrition bars: Snack bars made with nuts, whole fruits and no additives can tide you over until your next meal and satisfy sweets cravings. Be careful to choose bars that are high in protein with minimal carbs because many of these bars are high in carbohydrates.
Vegetable crisps: Instead of fried chips, try low-sodium snacks made from whole, baked green beans, green peas, kale or carrots.
Tuna: When packed in water or olive oil, tuna is a good source of protein, vitamins and Omega-3 fatty acids, which contribute to cancer prevention, cardiovascular health and a better mood.
Dark chocolate: Packed with antioxidants and nutrients that help brain, heart and eye health, the benefits of eating dark chocolate are even better than its taste.
Related Posts
Comments
About the Author
Cassie Richardson, health enews contributor, is regional coordinator on Advocate Aurora Health's Public Affairs team. She has more than 10 years of experience in health care communications, marketing, media and public relations. Cassie is a fan of musical theater and movies. When she's not spreading the word about health and wellness advancements, she enjoys writing fiction.