"I want people to know I can do anything"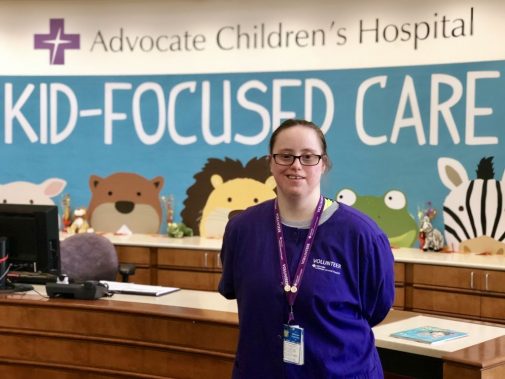 Meet Angela – Her friends call her Angie.
She's been volunteering at Advocate Health Care for more than five years. Angie is a participant at our Adult Down Syndrome Center at Advocate Lutheran General Hospital in Park Ridge, Ill. That's where her volunteer journey began.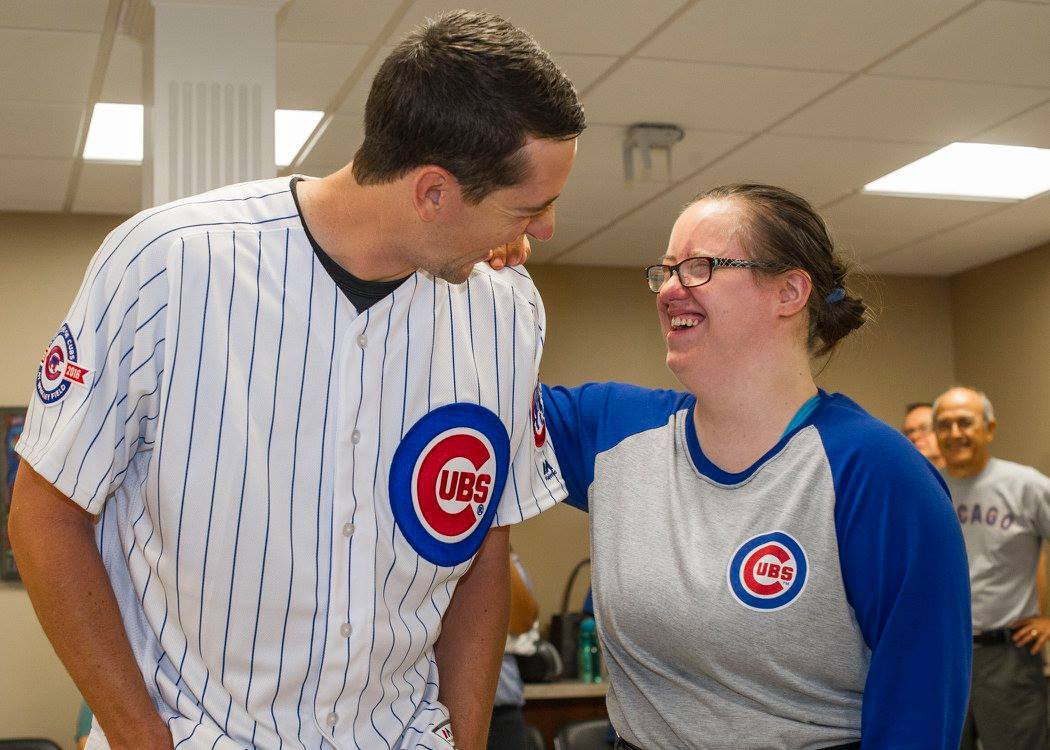 "At my yearly physical five years ago, I saw Dr. Erin Dominiak at the Adult Down Syndrome Center and asked her for a job," says Angie. "Although there were no jobs available, she said I could volunteer. I checked the copiers, made packets for other patients and helped set up for activities. My favorite memory was when I had my picture taken during a visit from Chicago Cubs player Kyle Hendricks. I even sent him the picture with my autograph on it!"
Angie enjoyed volunteering at the Center so much that she wanted to do more. She began picking up extra days in the cafeteria on campus. And just recently, Angie was transferred to Advocate Children's Hospital's Autism Treatment Center where she helps sanitize and organize the game room for pediatric patients. She was recently awarded and recognized for completing 1,000 hours of volunteering.
When she's not volunteering at the hospital, you can find Angie hanging out with her family, playing with her dogs, Maxwell and Hank, or working at Jewel.
"I have been working at Jewel for seven and a half years as a bagger," says Angie. "My favorite hobbies are Special Olympics, baseball, basketball, volleyball and golf. I also like Zumba, exercise and sewing."
Angie lives in Lincolnwood with her parents, Mary and Larry. She has one brother, Robert, who is married to his wife, Terri, and together, they have a 2-year-old son named Cooper.
"My brother, Bob, has always been my inspiration and hero," says Angie. "He always helps me. I try to do everything he can do and better!"
October is Down Syndrome Awareness Month, and Angie, a graduate from Elmhurst College's ELSA Program in 2012, hopes her story will inspire others.
"I want people to know that I can do anything," says Angie. "I am smart, I love to work with people and I can hold a job."
The Adult Down Syndrome Center celebrated its 25th anniversary last year. The Center, which started as a twice-a-month clinic, has grown into a five-day-a-week primary care practice with more than 7,500 patient visits annually, the first and busiest of its kind in the country.
Click to learn more about the Adult Down Syndrome Center's services and programs.
Related Posts
Comments
About the Author
Caitlin Ruiz, health enews contributor, is a social media manager at Advocate Health Care in Downers Grove. She earned her BA in broadcast journalism from Columbia College Chicago. When she isn't Facebooking, Instagramming or Tweeting, Caitlin enjoys producing videos, watching scary movies and attending as many Chicago Blackhawks games and country concerts as she can.