Featured Recipe: Easy whole grain hot cereal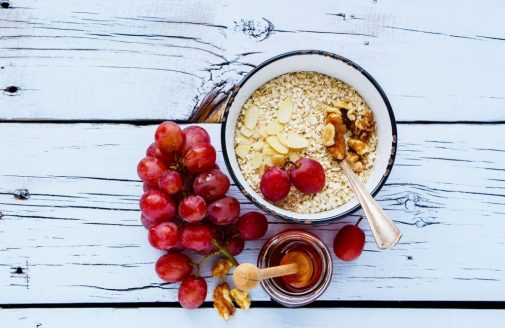 It's easy to get into a breakfast rut. When you're rushing around making sure you and/or your kids are ready for the day, it's easy to simply reach for the tried-and-true cup of yogurt, protein bar or bowl of cereal.
But sometimes, you really need a warm bowl of nutritious and delicious something to get your morning headed in the right direction.
Enter – breakfast quinoa.
Once a fairly obscure source of nutrition, the nutritional benefits of quinoa are now well-known. It's one of the few natural plant products that is a complete source of protein – meaning it has adequate amounts of all nine essential amino acids necessary in the human diet – packing in eight grams per one cup of cooked grains. It's also a good source of Magnesium and Phosphorus.
This recipe, created by Elizabeth Zawila, a registered dietitian at Advocate Good Samaritan Hospital's Health and Wellness Center in Downers Grove, Ill., turns the famous ancient grain into a hearty breakfast with protein, vitamins and fiber to start your day. It's also endlessly customizable – throw in your favorite fruits for a different twist, put an egg on top with some vegetables if you have the time or even add a tablespoon of unsweetened cocoa powder and some maple syrup to make your morning a bit sweeter.
To save time, consider making a big batch of quinoa early in the week and reheat it each morning.
Over quinoa? Consider using amaranth or millet – though the latter is not a complete protein.
Easy Whole Grain Hot Cereal
Yield: 1 Serving
 ½ cup quinoa (can also use millet or amaranth)
1 cup water
2 tbsp. raisins
¼ cup fresh pineapple chunks
1 pinch ground cardamom
1 pinch ground cinnamon
Combine quinoa or other grain and water.
Bring to a boil and then reduce to simmer.
Simmer for 25 minutes.
Turn off heat and add raisins, pineapple, cardamom and cinnamon.
Nutrition info: 114 Calories, 2 g fat, 4 mg sodium, 24 g carbohydrate, 2 g fiber, 2 g protein
Related Posts
Comments
About the Author
Nathan Lurz, health enews contributor, is a public affairs coordinator at Advocate Good Samaritan Hospital. He has nearly a decade of professional news experience as a reporter and editor, and a lifetime of experience as an enthusiastic learner. On the side, he enjoys writing even more, tabletop games, reading, running and explaining that his dog is actually the cutest dog, not yours, sorry.