Flu shots get celebrity treatment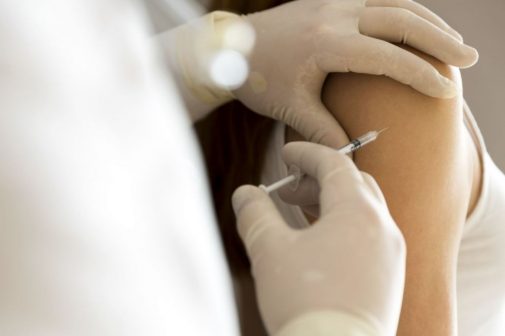 This year's Golden Globe attendees went home with gleaming statues and a little something else.
Co-hosts Andy Samberg and Sandra Oh announced the surprise from the stage to unsuspecting stars: "You're all getting … flu shots!"
Many interpreted the shtick as a light-hearted effort to promote public health, while others viewed it as a dig at anti-vaxxers. (According to NBC, the vaccines shown during the broadcast were not real shots.)
Nearing the height of flu season, the staged act serves as a reminder that the flu can pose very real consequences. Last year's historic flu season killed nearly 80,000 people in the U.S. Now, the CDC is reporting that 24 states are presently experiencing widespread flu activity. An average of 40 people are dying each week from the virus, including the recent passing of a 3-year-old child in Illinois.
"Among the most dangerously false 'facts' perpetuated in recent years is that vaccinations are unsafe or unnecessary," says Dr. Frank Belmonte, chief medical officer of Advocate Children's Hospital. "Let's set the record straight: This is pure fiction, and it's placing all of us – especially kids – at risk during flu season."
So, what are your odds of actually catching the virus? On average, five to 20 percent of the U.S. population will get the flu each year.
There are plenty of precautions you can take to help lower your chance of getting sick.
"The truth is flu shots are not only safe but a public health necessity for just about everyone 6 months of age and older," says Dr. Belmonte. "It's not too late to get a flu shot. Please get yourself and your kids vaccinated so that you're protected before flu activity peaks."
To prevent spread of the flu, Dr. Belmonte also recommends:
Washing your hands frequently
Avoiding contact with people who are sick
Covering your mouth and nose while coughing and sneezing
Practicing good health habits, like eating well, staying physically active, managing your stress levels and getting enough sleep
To schedule your flu shot, find a primary care physician.
Related Posts
Comments
About the Author
Katie Wilkes, health enews contributor, is a freelance public affairs specialist at Advocate Aurora Health. A DePaul University alum, she brings a decade of experience in media relations and content development to her role. Katie is also the co-founder and Emmy-nominated producer at Freeheart Creative, dedicated to sharing stories of brave women around the world. In her spare time, you can find her zen-ing out at a yoga studio and chilling with her 14-year old West Highland Terrier.