It started with stomach pain, but what doctors discovered was alarming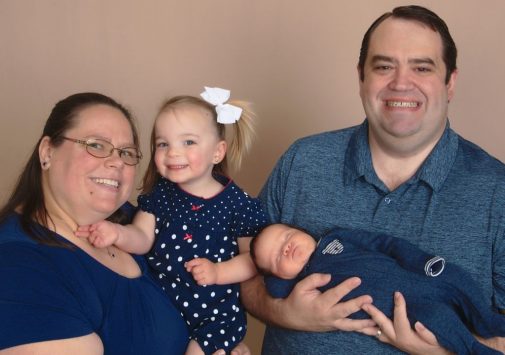 For MaryBeth McCarthy, her second pregnancy was anything but normal.
"I just feel lucky to be alive right now," she says.
Her health saga started back in November of 2017.
McCarthy, who is a nurse practitioner, went to the emergency department at Advocate Good Samaritan Hospital, near her work, with extreme pain in her upper stomach. McCarthy considers herself to have a pretty high tolerance for pain, so the trip was unexpected.
"When I was in labor with my first child, I would say the pain was a six," she explains. "This pain in my stomach was so much worse than that."
But after some tests and no apparent cause, the pain eventually went away.
Until a couple weeks later when McCarthy was forced to call in sick because she couldn't leave her bed, crippled by a similar pain.
"I just remember being in bed crying, thinking, 'Not again,'" she says.
At this point, McCarthy was pregnant with her second child in the first trimester. Doctors were cautious, running only the most necessary tests that wouldn't impact the fetus. One of the tests they ran was an abdominal ultrasound, which showed cysts on her spleen. These types of cysts are normally benign and are not known to cause the kind of pain she was experiencing.
The pain eventually subsided, and with no obvious cause, McCarthy was left wondering again what was going on.
"It felt like a never-ending cycle," she recalls. "I'd be in pain for a week with no end in sight, and then the pain would subside. But weeks later, it'd be back. The turning point came in April, when I had to be admitted to Advocate Lutheran General Hospital near my home because the pain was so bad again. I knew something was really wrong this time around. I was lightheaded, my blood pressure was low and my oxygen was low. The tests showed even more cysts on my spleen, and they were getting bigger."
Now, in her second trimester, doctors knew they had to determine the cause and take action before it was too late for McCarthy and her unborn child.
"MaryBeth was admitted to the hospital in April, at which point she was in her second trimester," says Dr. Thomas Iannucci, physician chair of the department of obstetrics and gynecology who specializes in Maternal Fetal Medicine and high-risk pregnancies at Advocate Lutheran General Hospital in Park Ridge, Ill. "This is an important window of opportunity during a pregnancy. In the first trimester, we don't want to expose a developing fetus to unnecessary medications or contrast from imaging. Once a woman gets to the third trimester, on the other hand, there is always the concern that abdominal surgery could lead to pre-term labor with a risk of premature delivery. The second trimester is the critical time if surgery is necessary, which is why we needed to get a surgeon involved and determine what was our best course of action."
So Dr. Iannucci brought in Dr. Joubin Khorsand, a surgeon with Advocate Lutheran General who ordered an MRI to get a clearer image of what they were dealing with on McCarthy's spleen.
What they saw on the MRI was alarming.
"The MRI showed multiple hematomas on her spleen," says Dr. Khorsand. "There were 15-20 cysts that appeared to be full of blood. It was clear we needed to get her spleen out immediately. It was a ticking time bomb, and if it ruptured, it could put both MaryBeth and her baby at risk."
So Dr. Khorsand referred McCarthy to Dr. Fabio Sbrana. Given her pregnancy, the safest option for surgery was doing it robotically, a specialty of Dr. Sbrana's.
"At this point, I just wanted to get my spleen out, and I wasn't leaving the hospital until the ordeal was over," explains McCarthy. "I remember being so nervous and worried Dr. Sbrana wouldn't be available to do the surgery. He was leaving for Cuba for an international meeting the next day, so I was worried we'd have to delay the inevitable. But Dr. Sbrana immediately calmed my fears when I met him. He was so caring and understanding. He told me we were getting this thing out of me, and two hours later, I was in the operating room."
"Mary Beth's situation was incredibly rare," says Dr. Fabio Sbrana, a surgeon who specializes in minimally invasive robotic surgery and performs some of the most intricate and complicated cancer procedures using robotics. "Typically, we may see one hematoma on the spleen, in her case, there were not only multiple hematomas there, but also a chronic abscess that was adjoined to her spleen and her diaphragm. Robotic surgery helped us manage such a complex situation in the safest possible manner."
The morning after surgery, McCarthy says she was touched by the care of her entire medical team.
"I remember that morning, Dr. Sbrana came to my room to check on me before leaving for his trip, and he told me he'd never seen anything like my case," McCarthy recalls. "He couldn't believe I had been living with this combination for so many months. He was clearly concerned about me and my baby. It was so important to him and Dr. Khorsand that I was doing well. It really touched me that they went out of their way to make sure I was okay."
Now, almost eight months later, McCarthy has been pain free since her operation. She gave birth this past summer and feels so thankful to be alive.
"It truly was the perfect storm with the hematoma and the pregnancy," she says. "I don't even like to think about what could have happened if one of the hematomas had ruptured. Thankfully, I had an amazing team that put me and my baby first. If it weren't for them, who knows where I'd be today. Instead, I have a healthy baby boy. He might have come into this world a little early, but he's happy and healthy, and for that, I'm so thankful."
Related Posts
Comments
About the Author
Jacqueline Hughes is a former manager, media relations at Advocate Aurora Health. Previously, she was the public affairs and marketing manager at Advocate Lutheran General Hospital in Park Ridge, IL. She earned her BA in psychology at Stanford University in Palo Alto, California. Jackie has 10 plus years experience working in television and media and most recently worked at NBC 5 in Chicago. In her free time, she enjoys swimming, going to the movies and spending time with her family.