Doctor searches for solution to patient's decade-long pain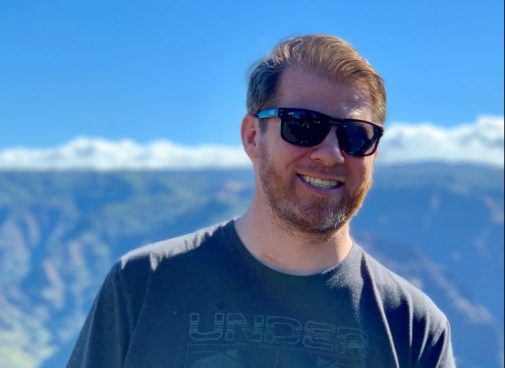 At 36, Jeremy Lehew faced a tough decision: Either live with the agonizing back and neck pain that bedeviled him for 10 years and was growing worse, or undergo a procedure to remove a disc and fuse bones together.
He knew he'd had enough of the pain, which was happening because a cervical disc ruptured and was causing pressure on his nerves. Something as simple as sleeping on a hotel bed could leave him in agony, with pain radiating from his back and neck into his arms. Even yawning and stretching was dicey, sometimes resulting in sharp, shooting torture.
The fusion would eliminate the pain but leave Lehew with a 10 – 20 percent chance he would require more surgery later in life and leave him with less mobility in the area where the bones would be fused together. But Neurosurgeon Dr. Richard Broderick had a better answer for Lehew: a cervical total disc replacement. Lehew was all in.
Performing the first surgery of its kind at Advocate Sherman Hospital in Elgin, Ill., Dr. Broderick removed the damaged disc and replaced it with an artificial one. Lehew's recovery was faster than it would have been with fusion, and his normal motion was preserved.
"It was an outpatient surgery. He came in the morning of the surgery and went home later that same day," Dr. Broderick says. "If he had undergone a fusion, he would have had work and lifting restrictions for six weeks after surgery. With disc replacement, there are no restrictions after the first seven to 10 days."
American surgeons began experimenting with the procedure about 10 years ago after its introduction in Europe. The U.S. Food and Drug Administration now has approved the technique and required implants, and many insurance companies have begun accepting this treatment option for coverage as a benefit in their plans.
Lehew says he didn't hesitate to have the procedure because he had confidence in Dr. Broderick's skill and because the certified physician assistant, Silvia Yung, "answered about a million questions" he had.
For Lehew, the procedure means that he is pain free for the first time in a decade. The relief is priceless.
"I felt terrible before, and sometimes that pain would happen at random times," Lehew says. "It's amazing how wonderful I feel now."
Related Posts
Comments
About the Author
Kathleen Troher, health enews contributor, is manager of public affairs and marketing at Advocate Good Sheperd Hospital in Barrington. She has more than 20 years of journalism experience, with her primary focus in the newspaper and magazine industry. Kathleen graduated from Columbia College in Chicago, earning her degree in journalism with an emphasis on science writing and broadcasting. She loves to travel with her husband, Ross. They share their home with a sweet Samoyed named Maggie.