How one man found a kidney at a baseball game via Facebook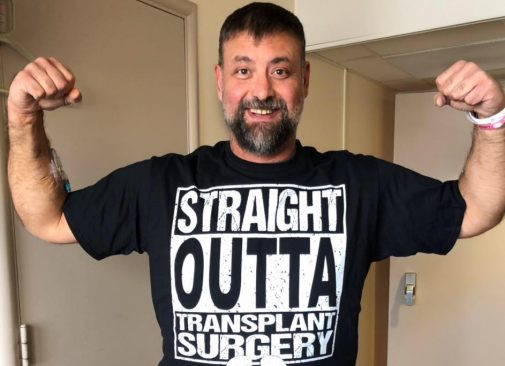 Lenny Zwieg is a father of three, husband and Brewers fan. One baseball game and a social media post changed his life.
Back in 2004, Lenny went to Africa to take American books and curriculum to schools. It was the trip of a lifetime, but he contracted Dengue Fever, which resulted in his diagnosis of a kidney disease known as IgA Nephropathy.
After returning home to Burlington, Wisconsin, Lenny's health continued to decline, and his IgA Nephropathy brought considerable damage to his kidney function. Lenny eventually started hemo-dialysis, which helped his symptoms but often left him feeling exhausted.
His life changed last Spring. The Zwieg family attended a Brewers game at Miller Park, when both Lenny and his son wore a shirt that said "Share your Spare" on the front and "Father of 3 Needs a Kidney" on the back. A random woman asked if she could snap a picture for social media. Little did Lenny know that the post would be shared almost 20,000 times.
Emily Nowak of Wausau, Wisconsin saw the Facebook post and decided to donate her kidney to Lenny. Emily is a 2nd grade teacher who always knew she was destined to help people – even if she didn't know them personally.
"Last January I made a bucket list and on it said 'to help out a complete stranger,'" she said. "I had no idea what that was going to look like and I definitely did not think it was going to be donating a kidney."
While her kidney was too small for Lenny, Emily was able to enter the National Kidney Registry.
"Even though Emily wasn't a match for Leonard, there was another person in this country that matched her (Emily) and they had a donor that matched Leonard" says Dr. Ajay Sahajpal, medical director for abdominal transplant at Aurora Health Care. This donor chain ensured Lenny got the right kidney for his body and Emily's kidney went to someone in need.
Lenny was able to get the kidney transplant he desperately needed on Nov. 2, 2018 at Aurora St. Luke's Medical Center. In addition to receiving a kidney, the Zwieg family also cemented a special bond with Emily.
Lenny and Emily kept in close contact during their recovery process and were even invited to throw out the first pitch at Sunday's Brewers game. They pitched to Dr. Sahajpal and Dr. Peter Leonovicz, the surgeons who performed the transplant.
To learn more about the organ transplants, click here if you live in Wisconsin. Click here if you live in Illinois.
Related Posts
Comments
About the Author
Erica Noonan is a social media specialist for Advocate Aurora Health. She earned her BA in advertising and public relations. In her free time, she enjoys hiking, trying new sushi and binging the occasional Netflix series.