Leaving the hospital quickly after surgery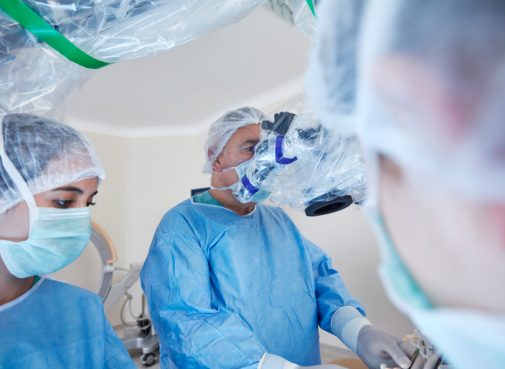 In 2017, a routine checkup for 68-year-old Judith Eichhorst turned into a life-altering discovery.
After her primary care physician recommended she have a chest CT scan, a mass that was later identified as stage III adenocarcinoma was spotted on her right lung. She underwent multiple rounds of radiation and chemotherapy along with immunotherapy treatment in 2018 followed by careful monitoring.
In early 2019, her cancer recurred. It was time for surgery.
In Eichhorst's case, Dr. William Tisol, a thoracic surgeon at Aurora Medical Center in Grafton, Wis., chose to remove her tumor through a minimally invasive technique —robotic-assisted surgery. This technique can provide patients a shorter stay in the hospital, minimal scarring and a faster recovery time.
"I was afraid going into my first meeting with Dr. Tisol," reflects Eichhorst. "I knew he specialized in robotic surgery, but I didn't know anything about it."
By operating with the assistance of a robot, Dr. Tisol could navigate and target the treatment area more precisely using its 3D high-definition vision system and special instruments that allow for more control and mobility to access places the human hand cannot.
This provided Eichhorst with a sense of comfort.
"Following surgery, I was discharged from the hospital two days later. Deciding to go with Dr. Tisol and robotic surgery was the best decision I could have possibly made," explains Eichhorst. "Three weeks after surgery, I was up and walking around – even doing some housework."
For Eichhorst, she will never look back on her decision.
"I would recommend it to everybody. I can't say enough about Dr. Tisol and his staff," she said. "He's an amazing surgeon, and this form of treatment was beyond my expectations."
Yearly testing helps detect lung cancer early. Find out if screening for lung cancer may be recommended for you by taking a quick assessment here.
Related Posts
Comments
About the Author
Chelsea Schwabe is a public affairs and marketing operations manager for Advocate Aurora Health's central Wisconsin region. She has eight years of experience in creative storytelling, PR campaign development, and media relations. She holds a bachelor's degree in strategic communications from the University of Wisconsin–Milwaukee. When not working as a wordsmith, she can be found hiking mountains, enjoying music, and riding her motorcycle.