Foods that can help keep you hydrated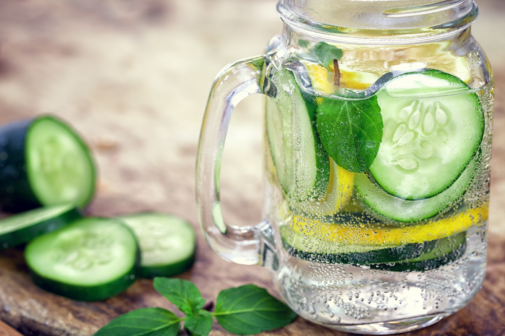 Let's face it: Plain water can be boring. But you know you probably need to drink more water, especially when it's hot or when you're more active. Drinking enough also keeps headaches at bay and your weight in check. The trick is getting enough.
Here are some ideas to make drinking water more interesting using natural additions—fruit, herbs, even a few veggies. Not only do they spice things up with flavor, but drinks with fruit slices and leafy herbs also have appeal for the eye.
What to use
Pick ingredients to suit your taste buds, and don't be afraid to experiment with mixing different things.
Real fruit juice in your water — Just a couple tablespoons of juice — is the simplest way to add flavor and a little color. Pomegranate, grape and orange are good. (Undiluted fruit juice has lots of sugar and calories, so you want to limit how much you drink.)
Almost any fruit is good for flavoring water, except bananas. Save those for smoothies. Frozen fruit works well, too, and keeps the water cold. Just put a few pieces or a handful of any of these in your water:
Citrus slices or sections – orange, lemon, lime, grapefruit
Berries, fresh or frozen – raspberry, strawberry, blueberry
Other fruit chunks or slices – pineapple, apple, mango, kiwi, watermelon
Fresh herbs like mint, basil, sage and rosemary are great to experiment with.
Cucumber adds a clean, fresh, light taste and smells great.
By the Glass or by the Pitcher
You can make flavored water by the glass to drink on the spot, or make enough for the family.
Flavors from whole fruits and herbs become more hearty the longer they soak, so if you like it stronger, make the drink ahead of time. Macerating the fruit (mashing it a little) also adds flavor, but it can affect the texture.
By the glass: Just put some fresh ingredients – mint leaves, lemon wedges and cucumber slices, for example – in a glass and enjoy it on the spot (for added pizzazz, use sparkling water.) Or toss in a handful of frozen berries.
To make a supply: Fill a large pitcher with an air-tight cover (a Brita-type filter pitcher works well) with water, add fruit, vegetables, herbs or spices (or all of them), and let marinate in the refrigerator for at least 15 minutes or overnight to let the flavors develop. Refrigerate and use within two days.
Combinations to try
You can find hundreds of recipes for flavored water, but here are some interesting combinations to spark your creativity.
Blackberry and sage
Blackberries
Fresh sage
Ice
Put berries (fresh or frozen) and fresh sage leaves in a glass, cover with ice and add water.
Strawberry and mint
Strawberries
Fresh mint
Ice
Put sliced berries (fresh or frozen) and fresh mint leaves in a glass, cover with ice and add water
1 large tomato (more tomatoes can be used for garnish)
4 – 5 sprigs of fresh basil
Ice
Dice a large ripe tomato and put it in pitcher with a few sprigs of fresh basil, rubbed or crushed. Fill with water.
Refrigerate four hours, strain and serve over ice.
Add more diced tomato and basil in each glass for garnish.
Red, "white" and blueberry
Frozen blueberries
Ice
Fresh strawberries
(If you have a large, clear beverage dispenser, this is especially pretty. You can also use a pitcher or make it by the glass.)
Put frozen blueberries in the bottom (an inch or two). Add a thicker layer of ice cubes. This helps keep the layers separate for a while. Top with strawberries (an inch or two). Fill container with water and serve.
Theresa Glasgow, RD, is a registered dietitian and the manager of nutrition services at Aurora Lakeland Medical Center in Elkhorn, Wis.
Related Posts
Comments
About the Author
Theresa Glasgow, RD, is is a registered dietitian and the manager of food and nutrition Aurora Lakeland Medical Center.