These women aren't getting enough key nutrients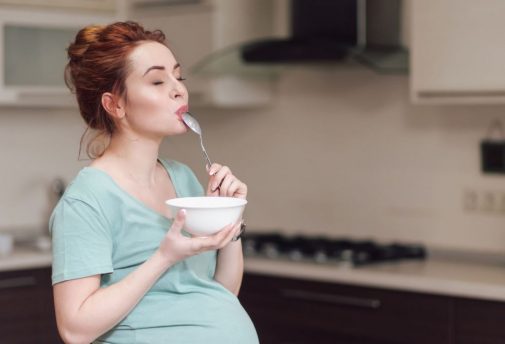 Pregnancy can be both the most amazing and physically challenging experience of your lifetime.
While you may crave plates upon plates of your favorite foods, you balance those cravings with healthier foods and supplements, aiming to do what is best for your health and the health of your baby. Adequate nutrition is one of the most important things you can do for your baby's long-term health.
However, a recent study from researchers at Purdue University found that a significant number of pregnant women are not getting the recommended amounts of several vitamins and nutrients and are also consuming too much sodium. The study, a cross-sectional analysis of 1,003 pregnant U.S. women between the ages of 20 and 40, assessed the women's dietary intakes in two, 24-hour periods.
After examining the data, researchers concluded that "a significant number of pregnant women are not meeting the recommendations for vitamins D, C, A, B6, K and E, as well as folate, choline, iron, calcium, potassium, magnesium and zinc." Although many of the women reported using dietary supplements, these were not found to be effective in significantly mitigating the deficiencies. Researchers noted that the number of nutrients included in prenatal dietary supplements do not follow any particular standards and can vary between brands, making it difficult to track your intake of nutrients.
"These findings are important in helping us improve dietary standards for pregnant women to help them meet the nutritional recommendations," says  Dr. Betty Schlatter, a certified nurse midwife at Advocate Illinois Masonic Medical Center in Chicago. "Nutrition is so vital to the health of a developing fetus, and all of those nutrients come directly from the mother. Any dietary improvements would be great for both the mother and baby."
For expecting mothers wanting to improve their nutrition, Schlatter suggests trying to make half of your plate fruits and vegetables, a quarter of it grains and a quarter of it protein. She also emphasizes the importance of calcium, getting two or three servings of fish per week and eating less processed foods to decrease sodium intake.
"Most nutrients would be covered by food alone if we ate according to these recommendations," she says. "If a dietary supplement is indicated during pregnancy, women would be better served by a good over-the-counter multivitamin rather than a more expensive prescription 'prenatal vitamin'. Many prenatal vitamins do not have adequate supplements such as iodine but have too much folic acid and iron. These can be obtained from foods such as fruits, vegetables and fish".
Related Posts
Comments
About the Author
Faith Washington, health enews contributor, is a public affairs and marketing intern at Advocate Health Care. She is a senior at the University of Illinois at Urbana-Champaign majoring in communication while minoring in public relations and psychology. She is president of her school's PRSSA chapter and student committee Head of Communication for the annual Roger Ebert film festival in Urbana. Outside of work, she enjoys reading nonfiction books or research articles and winning trivia games against friends.