This grieving family chose a way to help others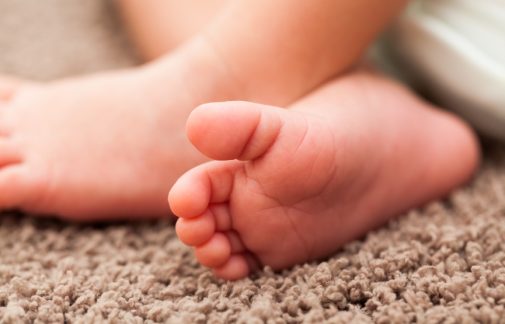 In 2012, Emily and Ryan were looking forward to expanding their family with the birth of their first child, a baby girl named Charlie. An emergency C-section at Advocate Condell Medical Center was performed, and Charlie was born unresponsive. She was immediately transferred to Advocate Lutheran General Hospital where she passed away after seven hours.
"My wife hadn't even held Charlie before she was transferred to Lutheran, and she had to stay at Condell because of her c-section," says Ryan, Charlie's father. "After Charlie passed away, the hospital worked out a way to bring Charlie to Emily so that she could say goodbye, and we're extremely thankful for that opportunity."
Ryan and Emily heard about the CuddleCot from a family friend a few years ago, and remembering how important it was for both to spend time with Charlie, decided to donate one to Advocate Lutheran General Hospital to help other families grieving the loss of their babies.
The CuddleCot system helps preserve the body of a deceased newborn for up to several days so that the family has time to grieve and say goodbye in the privacy of their hospital room.
"Caring for a bereaved family deserves technology like the CuddleCot to ensure they are provided with high-quality care during an extremely difficult time," says Dr. James Keller, vice president of maternal fetal medicine at Advocate Children's Hospital in Park Ridge, Ill.
Danielle Penman, an obstetric bereavement coordinator at Advocate Lutheran General Hospital, helps families cope with the loss of a newborn.
"We recognized the need to provide families with the best possible care at the worst possible time," she says. "We host an annual bereavement training for different departments and staff to ensure they are well-equipped to help families. We are thankful for the thoughtful donation of the CuddleCot by Ryan and Emily in honor of their daughter Charlie."
When Charlie passed away, a nurse gave Ryan and Emily a bunny and hand and foot prints as mementos. Ryan and Emily welcomed two boys over the years; Benjamin recently turned two and Noah five. Noah named the bunny "Charlie's Bunny" when he was only one year old, and it has accompanied the family on all their trips.
"The bunny has not only been a special keepsake, but also a way of explaining to our boys that they will always have a big sister," said Ryan.
Related Posts
Comments
About the Author
Neda Veselinovic, health enews contributor, is a public affairs coordinator at Advocate Lutheran General Hospital. She has more than five years of public relations experience and most recently worked with clients in the travel and hospitality industries. She prefers to spend her time with a cup of coffee and a good read and always welcomes book recommendations.