Recipe: Capsicum Chicken Curry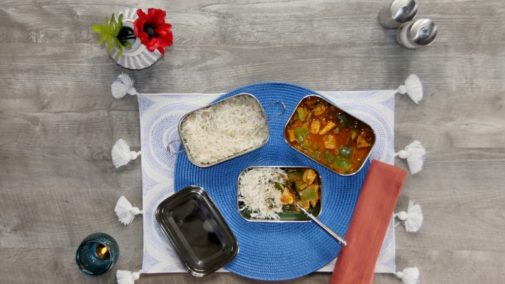 This recipe for Capsicum Chicken Curry is a great new addition to your healthy dinner menu for the family. Chicken curry is on the menu in most South Asian restaurants and is a staple in households that eat meat. The curry or the sauce is made in different ways with butter, cream, coconut milk, coconut puree, cashew nut paste and/or yogurt, based on which the name of the dish changes. Here's how you can make the quickest and healthiest chicken curry which is low in sodium, fat and carbs, yet preserves the authentic flavors. Adding vegetables to the chicken curry helps one meet the vegetable recommendations for that meal as well as adds flavor to the curry. For the lowest fat option, make sure you remove the skin and pick chicken breast over the thigh or leg. Also avoid thickening the curry with cream, cashew nut paste or coconut puree, instead use a tablespoon of roasted channa dal powder or paste and mash the tomatoes and onions with a hand blender to thicken the curry. Enjoy this with 3 small rotis or 1 cup of cooked rice.
Just one and ½ cups of Capsicum Chicken has 3 oz. of protein and a ½ cup of vegetable.  It's also the equivalent of a serving of proteins and vegetables on the USDA's MyPlate, which provides guidance on the appropriate amounts of fruits, vegetables, grains, dairy and protein each person should consume to live a healthier, more balanced life.
Capsicum Chicken Curry
Serving size: 1 ½ cups of Capsicum Chicken Curry
Total Servings: 4
Cooking Time: 1 Hour
Ingredients:
2 large bell peppers, seeded and cut into 1" squares
1lb chicken breast, washed and cut into 1" squares
1 cup onion, diced
10 curry leaves
6 garlic cloves
1" piece of ginger, peeled
1 cup tomato, diced
1 tsp garam masala powder [note: look for <30mg sodium per serving]
2 tsp chili powder
 ½ tsp salt
 1 Tbsp Channa Dalia or roasted split Bengal Gram Dal
 4 tsp olive oil
 4 cups of water
Cooking method:
Heat a non-stick kadai with 4 tsp olive oil. Add garlic, ginger, onions and curry leaves.
When onions are browned, add ingredients #7 – #11, sauté for 5-8 mins until tomatoes are soft.
Add 4 cups of water then blend the ingredients with a hand blender while the pot is still on the stove. This is the curry base.
Add in chicken and cook on medium heat for 20 minutes.
Add the bell peppers and cook for 3-4 more minutes.
Serve with basmati rice or roti.
Nutritional Information
Serving size: 1 and ½ cups of Capsicum Chicken Curry

Each serving provides:

Calories
220 Kcal
Protein
28g
Total Carb
12g
Total Fat
6g
Sodium
390mg
Other Resources:
MyPlate icons – https://www.choosemyplate.gov/myplate-graphic-resources
Nutrient info – USDA database – https://ndb.nal.usda.gov/ndb/search/list
Nutrient info – www.calorieking.com
Nutrient info – Patel Brothers – http://store.patelbros.com/
This South Asian series is brought to you by Advocate Health Care, created in collaboration with Boehringer Ingelheim. 
Copyright © 2019 Advocate Aurora Health, Inc. and Boehringer Ingelheim Pharmaceuticals, Inc. All rights reserved. 
Related Posts
Comments
About the Author
Sri Sakthi Ramanathan, RD, LDN earned her bachelor's degree from UIC in 2008 and completed her 1 year nutrition internship with the Advocate group of hospitals. She has been a dietitian for 10 years and enjoys making meal planning easier and applicable for her clients. She currently works part time at Advocate Heart institute for their South Asian Cardiovascular Center as their community dietitian. She is the nutrition expert when it comes to South Asian community health.