Recipe: Dal Vegetable Dosa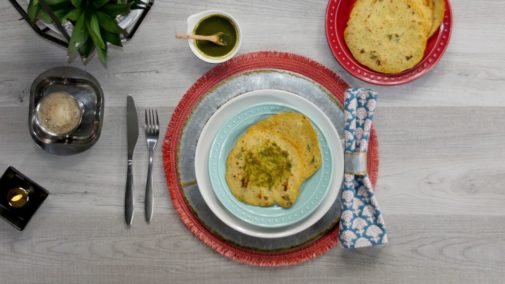 This recipe for Dal Vegetable Dosa will be a great addition to your family dinner menu. Dosa is a South Asian favorite dish at restaurants, as street food and as a breakfast or a dinner staple in many households. Dosa is a pancake made from a rice and lentil batter. The traditional recipe calls for a rice:dal (lentil) ratio of 4:1. It's a rice-based dish, which is simple sugar. Also, it's a time consuming process requiring the presoaking of the ingredients for anywhere from four to eight hours depending on the weather. That's not all, once the batter is made it requires the batter to ferment for at least four hours to as long as overnight to ferment. This sounds tedious… but here is the quick fix that can save you time and make your dish healthier by inverting the rice:dal (lentil) ratio to 1:4. Try this dal based Dosa that does not require any fermenting and enjoy the many benefits of the age-old dals (lentils).
One serving of Dal Vegetable Dosa equals 1 ounce of protein and ¼ cup vegetable. It's also the equivalent of a serving of protein and vegetables on the USDA's MyPlate, which provides guidance on the appropriate amounts of fruits, vegetables, grains, dairy and protein each person should consume to live a healthier, more balanced life.
Dal Vegetable Dosa
Serving Size: 1 dosa
Total Servings: 10
Soaking time: 2 hours
Batter prep: 15 minutes
Cooking time per dosa: 6 minutes
Nutritional Information
Serving size: 1 Dal Vegetable Dosa

Each serving provides:

Calories
93 Kcal
Protein
4g
Total Carb
13g
Total Fat
2.5g
Sodium
126mg
Ingredients
¼ cup raw rice
¼ cup Door dal
¼ cup whole Urad Dal
¼ cup Moong Dal
¼ cup Channa Dal
3 dry red chili
½ tsp fennel seeds or somph
¼ tsp turmeric powder
½ tsp salt
¼ cup onion, diced
½ cup shredded carrot
½ cup shredded cabbage
½ cup finely chopped coriander or cilantro
8 curry leaves, each leaf cut into small pieces
1 tsp mustard seeds
½ tsp olive oil per dosa
Water, as needed
Directions for Soaking and Batter Prep
Soak ¼ cup raw rice in a small bowl. Take a separate bowl soak the 4 dals together [ingredients #2 – #5] for 2 hrs. Drain well.
Place the drained rice in a blender, add ½ cup water and grind to a fine consistency. Empty contents into a mixing bowl.
In the same blender, place the drained dals along with ingredients #6 – #9 and ½ cup water. Grind well. Empty into mixing bowl with the ground rice.
Add ingredients #10 -#15 into mixing bowl and mix together well.
Add more water if needed to create a thick but pouring consistency. Your dal veggie batter is now ready; you don't need to ferment it overnight.
Cooking Method
Heat a non-stick fry pan on medium flame. Scoop 1/3 cup [1 standard Indian ladle] of dal batter and pour into the center of the pan.
With the bottom of the ladle, quickly spread the batter outwards to make a circular dosa or pancake.
Drizzle ½ tsp olive oil along the edges of the dosa and cover with a lid. Cook on medium heat for 3 minutes.
Flip the dosa, cover with lid and cook for 3 minutes. Since you are using a nonstick pan, you won't need additional oil. The bumpy surface of the dosa/crepe will appear dark brown when done,
Serve with your favorite chutney/spread or eat plain as a snack with tea.

Resources:
MyPlate icons – https://www.choosemyplate.gov/myplate-graphic-resources
Nutrient info – USDA database – https://ndb.nal.usda.gov/ndb/search/list
Nutrient info – www.calorieking.com
Nutrient info – Patel Brothers – http://store.patelbros.com/
This South Asian series is brought to you by Advocate Health Care, created in collaboration with Boehringer Ingelheim. 
Copyright © 2019 Advocate Aurora Health, Inc. and Boehringer Ingelheim Pharmaceuticals, Inc. All rights reserved. 
Related Posts
Comments
About the Author
Sri Sakthi Ramanathan, RD, LDN earned her bachelor's degree from UIC in 2008 and completed her 1 year nutrition internship with the Advocate group of hospitals. She has been a dietitian for 10 years and enjoys making meal planning easier and applicable for her clients. She currently works part time at Advocate Heart institute for their South Asian Cardiovascular Center as their community dietitian. She is the nutrition expert when it comes to South Asian community health.