Recipe: Masala Omelet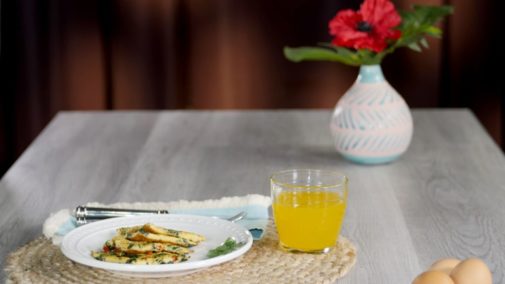 Omelets are an easy way to fulfill your protein requirements, but if not made carefully, it can be high in fat and salt. Are you someone who usually goes for a 3-egg omelet? Just pause and try this recipe for a healthier alternative. This recipe uses 1 full egg and 2 egg whites instead. It is made with just 1 tsp of olive oil instead of ghee or butter and seasoned with fresh ingredients that will remind you of the tasty masala flavor. Eat this omelet wrapped up in a roti, dosa or along with a slice of whole wheat toast.
This recipe of Masala Omelet is a great new addition to your healthy breakfast. A Masala Omelet has 2 oz. protein and ¾ cup of vegetable.  It's also the equivalent of a serving of vegetables and proteins on the USDA's MyPlate, which provides guidance on the appropriate amounts of fruits, vegetables, grains, dairy and protein each person should consume to live a healthier, more balanced life.
Masala Omelet
Serving size: 1 Masala Omelet
Total Servings: 1
Cooking Time: 15 Minutes
Ingredients:
1 whole egg
2 egg whites
1 pinch turmeric powder
1 Tbsp onion, diced
2 Tbsp red bell peppers, diced
1 Tbsp jalapenos, diced
1 tbsp mushrooms, diced
¼ cup spinach, chopped
1 tsp cilantro
1/8 tsp salt
1 pinch jeera or cumin powder
1 pinch pepper powder
1 tsp olive oil [Note: use 0.5 tsp for the omelet and 0.5 tsp to sauté the veggies]
Cooking method:
Beat the egg and egg whites together with a pinch of turmeric powder.
Heat a non-stick pan and add 0.5 tsp olive oil, add ingredients # 4 – 12 and sauté for 2 minutes until onions turn brown.
Pour the egg mixture over the sautéed vegetables and cook until thickened and browned. Flip and add remaining 0.5 tsp oil around edges of the omelet, if needed. Serve immediately.
Nutritional Information
Serving size: 1 Masala Omelet  

Each serving provides:

Calories
170 Kcal
Protein
13g
Total Carb
3g
Total Fat
9.5g
Sodium
320mg
Other Resources:
MyPlate icons – https://www.choosemyplate.gov/myplate-graphic-resources
Nutrient info – USDA database – https://ndb.nal.usda.gov/ndb/search/list
Nutrient info – www.calorieking.com
Nutrient info – Patel Brothers – http://store.patelbros.com/
This South Asian series is brought to you by Advocate Health Care, created in collaboration with Boehringer Ingelheim. 
Copyright © 2019 Advocate Aurora Health, Inc. and Boehringer Ingelheim Pharmaceuticals, Inc. All rights reserved. 
Related Posts
Comments
About the Author
Sri Sakthi Ramanathan, RD, LDN earned her bachelor's degree from UIC in 2008 and completed her 1 year nutrition internship with the Advocate group of hospitals. She has been a dietitian for 10 years and enjoys making meal planning easier and applicable for her clients. She currently works part time at Advocate Heart institute for their South Asian Cardiovascular Center as their community dietitian. She is the nutrition expert when it comes to South Asian community health.