Recipe: No Paneer Stuffed Bell Peppers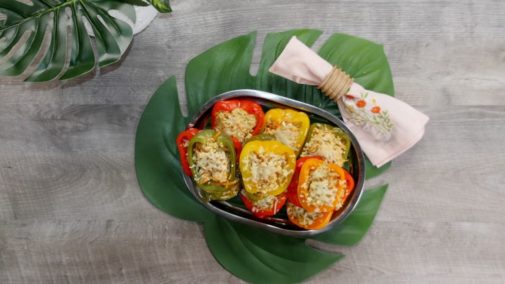 Stuffed bell peppers are exciting because it's all about the stuffing and it creates good conversations at dinner time as to what went in to the stuffing. So, "What's the stuffing made of?" It is made with cauliflower rice, tofu, shredded vegetables and some South Asian spices.
The 2 main food swaps that are key to making this recipe diabetic-friendly and heart-healthy are:
White rice with crumbled cauliflower
Paneer with tofu
This recipe does not require an oven as the stuffed peppers are steamed. It is a great dinner or snack option for diabetics that are counting carbs [2 stuffed halves are just 15 grams of carbs] or for a person recovering from heart disease as it is also low in fat and sodium.
This recipe of No Paneer Stuffed Bell Peppers is a great new addition to your healthy dinner or packed lunch. A stuffed pepper has ¾ oz. of protein, 1/3 oz. of grain, and 1½ cup of vegetable.  It's also the equivalent of a serving of vegetables, proteins, and grains on the USDA's MyPlate, which provides guidance on the appropriate amounts of fruits, vegetables, grains, dairy and protein each person should consume to live a healthier, more balanced life.
Masala Omelet
Serving size: 1 Stuffed Bell Pepper (Two Halves)
Total Servings: 6
Cooking Time: 1 and ½ Hours
Ingredients:
2/3 cup cooked brown rice
6 medium bell peppers, any color, cut in half vertically and de-seeded
1 cup [6 oz] extra firm Tofu cubes
1 Tbsp jalapeno, diced
1 Tbsp ginger garlic paste
½ cup onion, diced
½ cup tomato, diced
1 tsp chili powder
½ tsp salt
 ½ tsp turmeric powder
 ½ tsp dhania or coriander powder
 1 ½ cup carrot, shredded
 3 cups cauliflower
 2 Tbsp raw mango, grated
 1 ½ Tbsp olive oil
 ¼ cup shredded part-skim mozzarella cheese
Cooking method:
In a sauce pan, boil cauliflower for 10 minutes, drain water, mash and set aside.
In a small frying pan, crumble tofu, then sauté with 1 tsp olive oil and 1/8 tsp salt until moisture evaporates, set aside.
Take a large stock pot with water filled half way, bring to a boil. Now add the bell peppers and a pinch of salt. Cover lid and cook for 8 minutes on high heat. Then drain the water immediately and set the bell peppers aside to cool.
Heat olive oil in a nonstick sauce pan or nonstick wok on medium heat. Add ingredients # 4 – #11. Cook for 10 minutes stirring occasionally.
To the above wok, add cooked brown rice, shredded carrot, crumbled tofu and mashed cauliflower. Add grated mango. Stir well and cook for 10 more minutes on medium heat stirring often.
Take the cool bell peppers and stuff them with the filling, pack it well. Top each filled bell pepper with 1 tsp shredded mozzarella cheese.
To melt the cheese, in a shallow frying pan add ½ cup water and bring to a boil. Arrange the stuffed bell peppers in pan with cheese side facing up. Place lid and steam on medium heat for 5 minutes until cheese melts. Then remove from water and serve as dinner or as snack. Also great for a packed lunch!
Nutritional Information
Serving size: 1 stuffed bell pepper (Two Halves)

Each serving provides:

Calories
102 Kcal
Protein
5g
Total Carb
15g
Total Fat
2g
Sodium
311mg
Other Resources:
MyPlate icons – https://www.choosemyplate.gov/myplate-graphic-resources
Nutrient info – USDA database – https://ndb.nal.usda.gov/ndb/search/list
Nutrient info – www.calorieking.com
Nutrient info – Patel Brothers – http://store.patelbros.com/
This South Asian series is brought to you by Advocate Health Care, created in collaboration with Boehringer Ingelheim. 
Copyright © 2019 Advocate Aurora Health, Inc. and Boehringer Ingelheim Pharmaceuticals, Inc. All rights reserved. 
Related Posts
Comments
About the Author
Sri Sakthi Ramanathan, RD, LDN earned her bachelor's degree from UIC in 2008 and completed her 1 year nutrition internship with the Advocate group of hospitals. She has been a dietitian for 10 years and enjoys making meal planning easier and applicable for her clients. She currently works part time at Advocate Heart institute for their South Asian Cardiovascular Center as their community dietitian. She is the nutrition expert when it comes to South Asian community health.