Breast density explained – what you need to know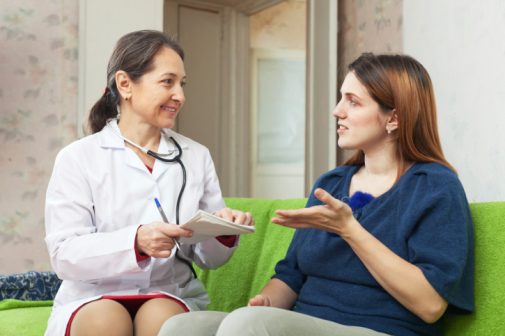 Women with dense breasts have a greater risk of developing breast cancer than women with less dense breasts because breast cancer can be more difficult to diagnose in these patients. Some breasts are made of mostly fat and appear black on a mammogram while other breasts are made of mostly connective tissue and appear white ("dense breasts").
A new Illinois state law effective this year mandates that patients are informed about their breast density. Dense breasts can increase your risk for developing breast cancer, so it is important that women know if their breasts are dense so they can receive appropriate cancer screenings.
"In dense breast tissue patients, the breast tissue appears white on a mammogram, which causes the radiologist to see a white-out on the image," says Dr. Nila Alsheik, chair of Breast Imaging at Advocate Health Care and co-medical director of the Caldwell Breast Center at the Center for Advanced Care at Advocate Lutheran General Hospital. "It can be hard to see cancer through this white tissue, which is why we continue to offer additional screening options, such as whole breast ultrasound in patients with dense breast tissue. Nearly 100 percent of our patients at Advocate Lutheran General and 65 percent of patients systemwide receive 3D screening mammograms, which make cancers easier to diagnose, and at early stages, in women of all breast densities."
Over the last decade, much has been done across the country to educate women about dense breasts and ensure they receive the proper screenings.
5 Facts About Dense Breast Tissue You Need to Know
What your breasts are made of determines their density. Breasts are made up of fat, breast tissue and connective tissue. Breasts that are mostly made up of fat with less breast and connective tissue are considered low density. Breasts composed of mostly breast and connective tissue and less fat are classified as dense breasts.
You can't tell if you have dense breasts on your own. Getting a mammogram is the only way to know if you have dense breasts. Fatty breasts and dense breasts feel and look the same, so the only way to know which category you fall into is to get a mammogram.
Age plays into breast density. Young women more often have dense breasts. As women age their breasts become less dense, especially after menopause when much of a woman's breast tissue is replaced by fat.
Many factors contribute to breast density. Age is one factor that can impact how dense a woman's breasts are, but weight, genetics and family history also play a role. If dense breasts run in your family, it may be something to tell your health care provider so you can receive the best breast cancer screenings possible.
If you have dense breasts, take advantage of multiple screening methods. Since dense breast tissue appears white on a mammogram, it's more difficult to identify a tumor with traditional 2D mammography. If you have dense breasts, consider getting a 3D mammogram or a whole breast ultrasound in addition.
Want to learn more about your risk for breast cancer? Take a free, quick online risk assessment by clicking here.
Related Posts
Comments
About the Author
health enews staff is a group of experienced writers from our Advocate Aurora Health sites, which also includes freelance or intern writers.