Spooky season is upon us. Are you prepared?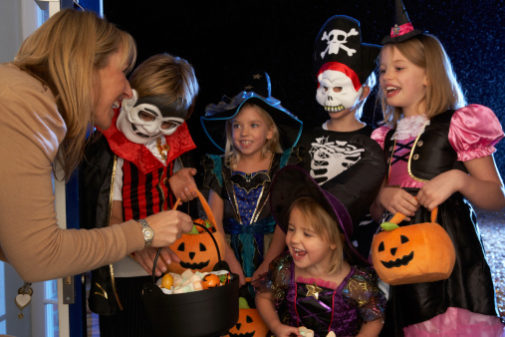 Jack-o'-lanterns. Trick-or-treating. Candy. Scary movies. Halloween is almost here.
Dr. Shrinal Vyas, a pediatrician with Advocate Children's Hospital, offers the following tips to keep your spooky season as safe as possible.
Candy
Dine then dash: Make sure your family eats a healthy dinner before heading out to trick or treat.
Watch those wrappers: Only eat candy that is factory wrapped. Avoid eating homemade treats from strangers' homes. Don't allow your child to eat candy while trick or treating. While tainted treats aren't common, it can happen, so inspect every item.
Swap the stash: If your child has food allergies, be extra careful with what they consume. Consider a "candy swap" with a friend so they can still get a lot of treats they can eat.
Ration the rewards: Make sure to space out the treats so they can be enjoyed over time and not all in a couple of days. Pro tip: Consider swapping some of the candy for a book, toy, etc.
Costumes
Prep that paint: If your child's costume involves face paint or makeup, test it out ahead of time to make sure they don't develop a rash or have some other reaction to the product.
Dress to reflect: Consider adding reflective tape to parts of your child's costume so they are even more visible.
Scratch the sharp objects: If your child's costume has a sword or similar accessory, make sure it's not sharp, pointed or too long. Accidental injuries can happen.
Choose comfort: Make sure the costume fits well and won't cause any tripping, the shoes are comfortable, etc. Also ensure no parts of the costume are flammable.
 Trick-or-treating
Is it lit? Only go up to well-lit homes in familiar areas. Don't enter anyone's home unless it's a trusted neighbor or friend.
Prep by planning: If older kids are going out alone, set a pre-determined area or path where they will go that is acceptable to you and agree on a specific time they are expected home.
Stick to sidewalks: Don't assume motorists will stop for trick or treaters, especially as it gets dark so early now. Don't cut across people's yards or driveways and use sidewalks only. Have a functional flashlight as well as a charged phone on hand.
One more spooky suggestion: Light your child's jack-o-lantern with glow sticks rather than candles.
"Halloween is a fun and exciting time for most kids and families," says Dr. Vyas. "But it's also a holiday that can make kids vulnerable, and their safety should not be overlooked".
Related Posts
Comments
About the Author
Holly Brenza, health enews contributor, is the public affairs coordinator at Advocate Children's Hospital. She is a graduate of the University of Illinois at Chicago. In her free time, Holly enjoys reading, watching the White Sox and Blackhawks, playing with her dog, Bear and running her cats' Instagram account, @strangefurthings.