5 breastfeeding myths busted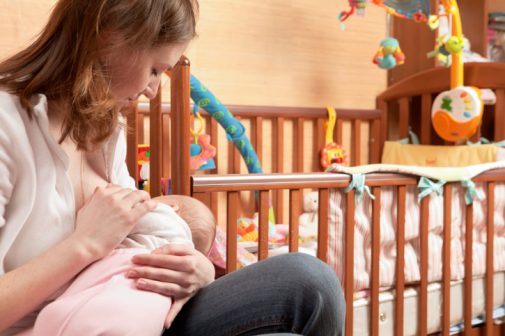 When you have a newborn, there is no shortage of unsolicited advice from relatives, friends, even random strangers. Not all of it is good information, especially when it comes to breastfeeding.
One thing is true: Breastfeeding is one of the best things you can do for your baby and yourself.
"There are so many really great reasons to breastfeed," says Dr. Stephanie Slock, a pediatrician and lactation consultant at the Women's Pavilion at Aurora West Allis Medical Center in West Allis, Wis. "The number one beneficial thing is that breast milk has so many immunity-boosting, health-protecting substances in it that a baby can't get from formula, reducing risk of stomach bugs, ear infections and colds in babies."
Another great reason – it's free.
"You're going to make it anyway," Dr. Slock says. "You don't have to do anything extra. It's convenient." It also can help decrease mom's risk of breast and ovarian cancers, and post-menopausal osteoporosis.
There is a lot of misinformation about breastfeeding, Dr. Slock says.
She addresses five common myths surrounding breastfeeding:
Myth: Breastfeeding should hurt. "Absolutely not," Dr. Slock says. "If it hurts, there's something wrong. You should seek help from your OB or a lactation consultant."
Myth: If you have small breasts, you won't produce enough milk for your baby. Not true, says Dr. Slock. "Breast size affects storage capacity more than milk production," she says. Women with larger breasts may be able to go longer between feedings or pumping, but small breasts do not cause issues with milk production.
Myth: Breastfeeding will cause your breasts to sag. "Breastfeeding is probably not the cause," Dr. Slock says. "It's likely the pregnancy itself." Hormonal changes and breast growth are normal changes during pregnancy. As the volume of the breasts returns to normal after the pregnancy, the skin doesn't always come with it, causing sagging.
Myth: You can't eat spicy foods. "Certain foods may affect your infant. It's different for all babies, just like it is for adults. And a varied diet can even help decrease the likelihood of a baby developing food allergies," Dr. Slock says. Being thoughtful about when you consume alcohol and limiting caffeine intake is important, she says.
Myth: You can't get pregnant while breastfeeding. "There's a lower likelihood of pregnancy if you're exclusively breastfeeding, and feeding more frequently than every six hours," says Dr. Slock. "However, nothing is 100%. I've seen people get pregnant before getting their first period after pregnancy." If you do not want to get pregnant, don't rely on the fact that you're breastfeeding.
If you are having issues breastfeeding, it's important to find accurate information from a health care provider.
Are you looking for a doctor? Look for one in Wisconsin or Illinois.
Related Posts
Comments
About the Author
health enews staff is a group of experienced writers from our Advocate Aurora Health sites, which also includes freelance or intern writers.