My daughter is a twinless twin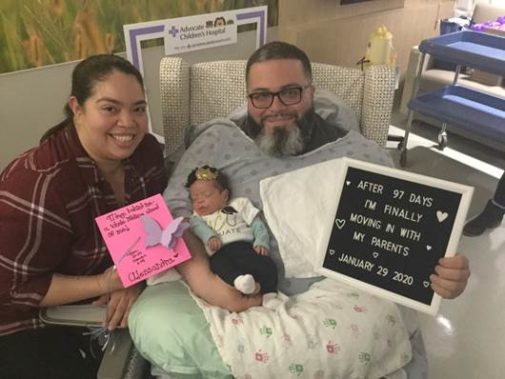 My daughter, Alessandra, was born at 25 weeks, 4 days on Oct. 24 of last year, weighing 1 pound 9 ounces. Her twin sister, Alanese, was born unexpectedly at home at 23 weeks, 4 days on Oct. 10.
Paramedics rushed us to a local hospital, but Alanese couldn't be saved. My husband and I had to say goodbye to her. She was only with us for two hours.
We suffered an unexplainable loss, but I knew I had to stay strong for my unborn baby. I was transferred to Advocate Christ Medical Center, where I underwent testing to check on Alessandra.
She looked healthy, but I was faced with a shocking decision – whether or not I wanted to deliver her now. My body pulled the clamp the paramedics used on Alanese's umbilical cord into my cervix, so there was a risk of infection. I remember crying on the ultrasound table, asking how this could happen after I just lost a baby. I was terrified of losing another. I decided to keep her with me.
We began antibiotics, magnesium and a steroid for Alessandra's lungs. She stayed in two more weeks to the day after Alanese was born. Those two weeks made all the difference in her survival.
At 25 weeks, 3 days, my water broke.
I needed an emergency C-section. I was rushed to the operating room and anesthetized. My daughter was coming. I cried knowing we didn't make it to 27 weeks, which was our goal for improving her chances.
On Oct. 24, our miracle Alessandra arrived, weighing 1 pound 9 ounces.
When I woke, she was intubated in an isolette. The team wheeled my bed into Alessandra's Advocate Children's Hospital NICU room so I could see her for the first time. I couldn't even believe I got to see her.
My poor baby. That's all I remember thinking.
I became extremely sick from a uterus infection and wasn't able to see Alessandra for days. I felt so horrible. I just wanted to see my baby. The health issues I endured left me in the hospital for 3 weeks.
Alessandra spent 97 days in the NICU. Going home was bittersweet – I never thought I'd cry, but we became so attached to the staff. They loved my baby and cared for her so well.
Here's what I would tell other parents going through the NICU journey:
Take it day by day. Be patient and know the staff is on your side. I got a lot of feedback from the care team that my attitude toward the situation made it easier for everyone. How could I not embrace them? These people were in charge of my baby's well-being. I trusted them and followed their lead.
Communication is key. If you can't be there physically, call. A few times, I missed rounds and asked to be contacted after. The team happily called me.
Your concerns are valid. Speak up. I was never made to feel like I didn't know what I was talking about.
Be prepared to learn terms you never thought you'd know. You'll say them in conversations with people not on the NICU journey, and they won't know what you're talking about.
Learn about your NICU's resources. We were offered massages, and my daughter left with Beads of Courage signifying her resilience and journey.
Alessandra is home. She is 5.5 pounds and is still getting used to sleeping without the sounds of the NICU. These past four months have been anything but easy, but I'm so grateful for all of the staff, but more specifically Alessandra's micro-preemie primary team.
They not only got my baby through incredibly rough times – they got myself and my husband through, too. I so deeply appreciate the training they receive and the knowledge they're equipped with to care for my baby and others like her.
Related Posts
Comments
About the Author