Is this device a game-changer for patients with slow heart beats requiring a pacemaker?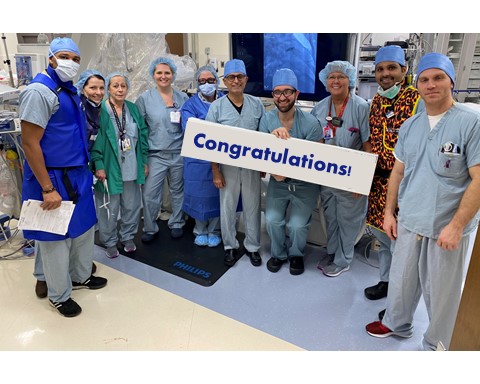 Before Valentine's Day this year, Elmeda Samuels, 81, says she wouldn't have characterized herself as an extremely optimistic person.
That was before she received her new pacemaker on Feb. 15 – becoming the first patient in Illinois and one for the first 10 in the world to receive a leadless, dual chamber device.
Dr. Manoj Duggal, a cardiac electrophysiologist at Advocate Christ Medical Center in Oak Lawn, Ill., performed the urgent procedure to implant the pacemaker, which restored synchronized beating to both chambers of Samuels' heart without making an incision to the chest wall.
He learned Samuels needed a dual chamber pacemaker soon after her arrival at the emergency department with breathing troubles.  Although Samuels had not been diagnosed with heart disease, Samuels says she started experiencing shortness of breath whenever she walked downstairs to her basement to do laundry. She decided to visit Advocate Christ when she had trouble catching her breath, and was surprised to learn she had a complete heart block, resulting in a slow heart rate.
"Until this generation of the pacemaker became available, we didn't have a leadless device for patients with impaired electric conduction in two heart cambers [atrium and ventricle] resulting in slow heart rate," Dr. Duggal says. "These patients could only receive therapy via a pacemaker connected to the heart by leads and making a deep incision to the chest wall."
Leads are tiny electrical cables that keep the heart's rhythm beating on track.
This new technology functions without leads. Moreover, this device can be inserted without an incision to the chest wall. Instead, the device is inserted into the heart using an intravenous line in the femoral (leg) vein under twilight anesthesia.
"In addition to offering similar results of pacemakers with leads, the newest generation pacemaker offers less risk of post-operative infection and easier recovery," Dr. Duggal says.
After the minimally-invasive insertion, patients have immediate use of their left arm and can resume driving soon after surgery – activities which are restricted immediately following the traditional procedure. Dr. Duggal stresses that as a precautionary measure, he recommends an overnight hospital stay for his patients for observation.
Today, with her new pacemaker, Samuels says she has high hopes for her future.
"I feel pretty good now. I'm hoping to feel even  better," she says. "It would have been death if I hadn't come in when I did. I feel fortunate I'm the first one to receive this new pacemaker technology."
Want to learn more about your risk for heart disease? Take a free, quick online quiz.
Related Posts
Comments
About the Author
Cassie Richardson, health enews contributor, is regional coordinator on the Public Affairs team for Advocate Health Care and Aurora Health Care. She has more than 10 years of experience in health care communications, marketing, media and public relations. Cassie is a fan of musical theater and movies. When she's not spreading the word about health and wellness advancements, she enjoys writing fiction.