Health care heroes: Inside Advocate South Suburban's emergency department tent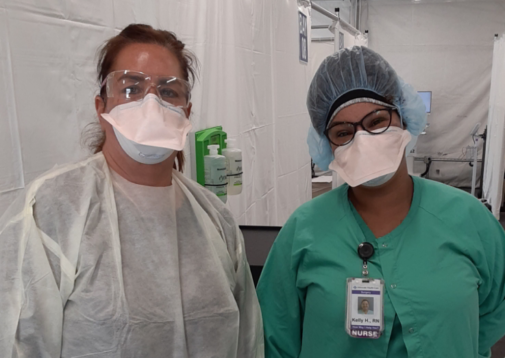 Helping to lead health system efforts to prepare for an expected influx of COVID-19 patients, Dr. Ronald Lawton coordinates with multiple Advocate Aurora Health emergency departments (ED) to put surge plans in place. One such effort: Each hospital has constructed two external tents outside the EDs – a triage tent to determine just how sick patients are and where they can most appropriately be treated and an ED overflow tent to manage the health of less critical patients.
On Monday, he treated patients in the ED overflow tent at Advocate South Suburban Hospital in Hazel Crest, Ill.
"We're bringing in physicians and advanced practice clinicians who don't typically work in the ED – they might be family physicians, internists or pediatricians. They're helping to staff our tents. Same on the nursing side – we're taking nurses from urgent care and physicians' offices. This has really been a team effort."
Dr. Lawton, the medical director of emergency medicine for the system's Illinois hospitals, stresses that these tents are not testing sites. They're one key part of a larger effort to prepare for a surge in critical patients, so don't drive up with a low-grade cough or fever thinking this is the place to get a test. If somebody is feeling like they might have symptoms that are mild, he says, they should first call the Advocate Aurora Health hotline, schedule a virtual visit or reach out to their primary care physician.
This tent is for treating patients who think they need to be hospitalized. Dr. Lawton and other clinicians might draw blood, give IVs or oxygen, conduct an EKG, and soon, chest x-rays.
"Everyone that's been coming into the emergency department and been working has been a hero. They've really stepped up, they've made sacrifices to their own well-being and to that of their families and have shown tremendous commitment to the patients, to our hospitals and to our communities," he says.
This is a tough time for those on the front lines, Dr. Lawton says. With the challenges that come with taking care of critical patients and concerns about their own health, too, just being recognized for the sacrifices they're making and being supported during this stressful time means the world to everybody. He says that when they receive letters, food or PPE donations, it really lifts their spirits.
Offering special shoutouts to Sharon Quinlan, who led the system initiative to erect tents at all Advocate Aurora sites of care, and Dr. Rommel Bote and Dr. Paul Coogan, Dr. Lawton credits his colleagues in facilities, IT and other departments for standing up so many operational tents so quickly.
His silver lining in all of this…
"Whenever there's a crisis, it tends to bring people together."
Joining Dr. Lawton in the Advocate South Suburban ED tent were Mary Kluever, a nurse practitioner from Channahon, Ill., who typically works at an Advocate Clinic at Walgreens, and Kelly Hull, a surgical nurse at Advocate South Suburban.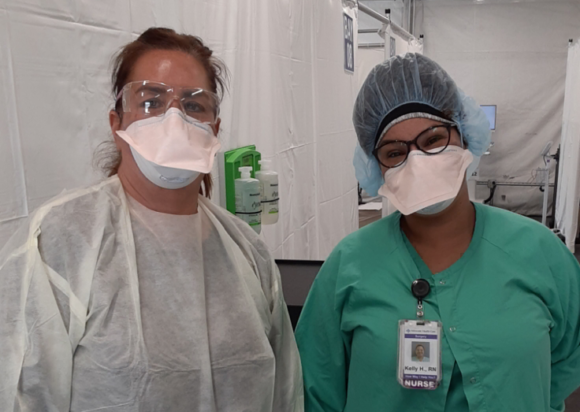 When in-person visits at her clinic were paused last month, Mary started conducting virtual visits with patients who called the COVID hotline. When asked who would be willing to be redeployed to ED tents, the nurse of over 20 years, with five as an advanced practice nurse, volunteered.
"I have urgent care and emergency room experience," she says. "Obviously, it's a feeling that you need to pitch in and help do your part. This is why I got into nursing. Here's a chance to utilize my skills where they're needed."
Kelly, from Schererville, Ind., was asked about 10 days ago if she'd redeploy the ED tent.
While acknowledging she was hesitant at first, "I knew they needed help. I gotta do my part."
A familiar refrain.
"It's a little stressful and it can be draining," Kelly admits. "Today, we had seven people come in at once, but I can only imagine what they're going through in the ED and the ICU."
On how she feels about all the community support for people in the medical field, "It's motivating. I know this is going to go on for a long time, so you do what you can to stay positive."
Related Posts
Comments
About the Author
Adam Mesirow, health enews managing editor, is media relations director of Advocate Health Care and Aurora Health Care. Securing high-profile media placements for more than a decade, he loves to tell a good story. Adam earned a Bachelor's degree in Public Policy from the University of Michigan. He lives in Chicago and enjoys playing sports, reading TIME magazine and a little nonsense now and then.