Health care heroes: A critical volunteer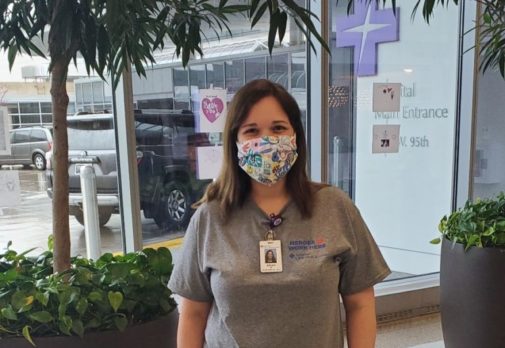 It was soon after Bruna Porto became one of the first people to volunteer to work in Advocate Christ Medical Center's first new COVID-19 unit that she proved once again that her job is about more than cleaning patients' rooms.
For more than 13 years, Porto has worked at the hospital in environmental services, which means it's up to her to ensure important spaces are disinfected and safe. It's a critically important job in the best of times, but that importance has come into clearer focus during the coronavirus pandemic. As she says: "If I do a bad job, they're going to get sicker."
Christ is like many hospitals, which made big changes in the opening days of the pandemic, creating dedicated COVID-19 units to help stop the spread of the virus and ensure the influx of patients get the safest, best care possible.
Porto volunteered in March to work in the first one, and she went about her work among the doctors, nurses and other staff who hustled from patient to patient, often with serious looks in the eyes above their masks.
Her job doesn't include caring for patients directly, but her friendly waves to people who are suffering and looking for a connection are welcomed with smiles. During a shift one day, Porto locked eyes with a patient who clearly had been having a rough time for days. Porto told the patient she was looking much better and that she would pray for her. The patient started to cry and thanked Porto. 
"It's a small thing that I did," Porto said. "But we are humans. We're all in the same situation."
The situation has been tough in Chicago, especially on the South Side and south suburbs like Oak Lawn, where Christ is located. COVID infection rates have been high, and that means a lot of stress on communities and the hospital workers who care for them. That includes the environmental services staff.
"We are here to provide a safe and clean environment that's conducive to the healing process," said Jonathan Adkins, Assistant Director for Environmental Services & Patient Transport at Christ. You've heard on the news about the demand for hospital beds. These are the workers that make sure the beds are turned over timely when they open up, while also making sure they're clean and safe for the next patient being admitted.
"Things would come to a screeching halt without them," Adkins says. "With COVID-19, it very quickly went from business as usual to morphing into all hands on deck, and we are all taking on new tasks and functions to ensure smooth patient throughput."
Porto was one of the first hands on deck. Typically, she's an Environmental Services Team Lead in the Christ emergency department. She said it wasn't a tough decision to volunteer early for a COVID unit.
"First, I like to help others," she says. "This situation is new for everyone. Lots of people are afraid, and I am not. I know what I do is important."
Early on, Porto was sent home for a few days because of possible exposure to the virus. After not showing any symptoms, she returned to her post at Christ.
"I feel helpful over there, not at home," she said.
Working in a new COVID unit meant working with people she hadn't before. The pandemic has caused intense stress for workers throughout the hospital, but it's also brought teams closer together. Porto says she felt at home immediately, even as masks, distancing and other safety protocols limit contact among team members.
"When I started working in a different unit, they thanked me a lot. They opened their arms for me," Porto said. "The hugged me without touching me."
Related Posts
Comments
About the Author
Mike Riopell, health enews contributor, is a media relations coordinator with Advocate Aurora Health. He previously worked as a reporter and editor covering politics and government for the Chicago Tribune, Daily Herald and Bloomington Pantagraph, among others. He enjoys bicycles, home repair, flannel shirts and being outside.