Like mother, like daughter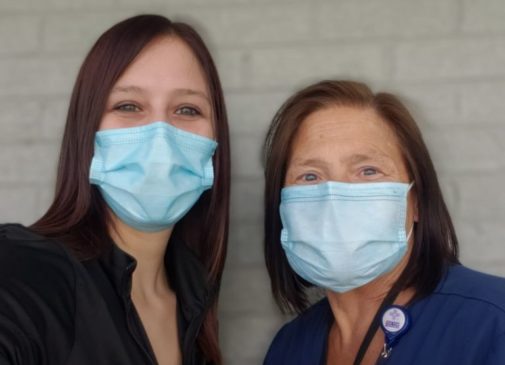 For nearly 30 years, Kathleen Voss, a registered nurse at Advocate Lutheran General Hospital, has defined the word hero. All those years, her daughter saw the passion in her mother's eyes when she would come home from the night shift and remained eager to hear stories from the front lines.
"I wanted to be my mother, the person who fought for patients while everyone else was sleeping," says Denise King, registered nurse in the intensive care unit at Advocate Lutheran General Hospital. "My dream became a reality in 2017 when I graduated and a year later joined my mom at Advocate Lutheran."
Kathleen first worked as phlebotomist and seeing a group of nurses rush to revive a newborn in the intensive care unit, she decided to embark on the path to become a nurse. The support from her husband and three children helped drive her towards completing her degree and eventually transitioning to the surgical intensive care unit. Five years ago, Kathleen joined care management, a department that ensures patients have a safe plan in place when discharged to prevent readmission.
"Denise has made me incredibly proud," says Kathleen. "I have encouraged my daughter and emphasized that this is what nursing is about, caring for all patients. No one can foresee a pandemic, but nurses are resilient, and we are taught to embrace change."
Although they are not working side by side, they remain as close as ever.
"We try to connect every day, navigating our different schedules," says Kathleen. "Denise remains protective of me, so we've been practicing social distancing."
"My mom texts me every day to ask how I am doing," says Denise. "Ever since I became a nurse, I call her every day to tell her what I did for the first time or what I learned. It's nice to have someone I can relate to and it's even more meaningful that it's my mom."
Although social distancing will prevent them from celebrating Mother's Day the way they normally would, Denise says the love between a mother and daughter knows no distance.
Related Posts
Comments
About the Author
Neda Veselinovic, health enews contributor, is a public affairs coordinator at Advocate Lutheran General Hospital. She has more than five years of public relations experience and most recently worked with clients in the travel and hospitality industries. She prefers to spend her time with a cup of coffee and a good read and always welcomes book recommendations.