The ice bucket challenge was more than a social media craze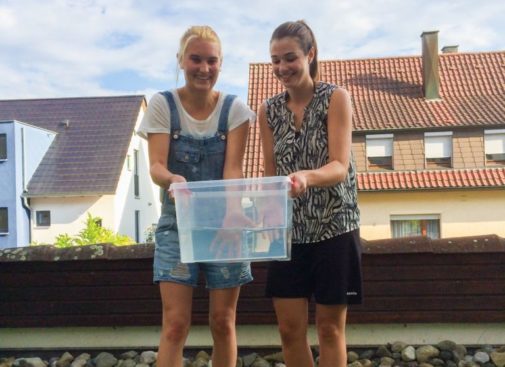 In 2014, people across the world took the chilly plunge in the viral Ice Bucket Challenge, raising over $220 million to help fund research for amyotrophic lateral sclerosis (ALS). Now, researchers have found an experimental treatment that may help slow the progression of ALS, also known as Lou Gehrig's disease, thanks in part to the money raised by the challenge.
A recent study published in The New England Journal of Medicine reported that participants given a two-drug combination experienced a slower progression of disease than participants taking a placebo. This included retaining some physical functions longer, like speaking, swallowing and walking.
"ALS is a highly progressive neurodegenerative disease with no cure and little treatment options," explains Dr. Mhd Kher Heder, a neurologist at Aurora Medical Center in Summit. "Any research showing a potential way for patients to retain their ability to do things like walk and talk is valuable and encouraging."
The six-month study used the Revised ALS Functional Rating Scale to measure outcomes. The 48-point scale measures patients' abilities to do daily activities like walking and feeding themselves. Results showed that patients who took the drug lost fewer points over time in comparison to those who took the placebo.
According to the ALS Association, roughly 20,000 people in the United States currently have ALS, with most between the ages of 40 and 70. Symptoms include the progressive loss of muscle control and ability to speak, swallow, grasp objects, walk and breathe. The average life expectancy is two to five years.
"The difficulty with diagnosing ALS is that it is typically done by ruling out other diseases, which can take a very long time," Dr. Heder says. "Unfortunately, there are currently only four drugs approved by the FDA to treat ALS and no cure."
This is the first clinical trial supported by funds from the Ice Bucket Challenge to publish results. A number of other treatments are currently being tested with results expected soon.
Although there is still no cure for ALS, Dr. Heder says the new findings are promising.
"This is a step in the right direction," says Dr. Heder. "The Ice Bucket Challenge greatly increased awareness for the disease and now we're starting to see the results of the research that was made possible in part by the challenge."
Related Posts
Comments
About the Author
Carla Basiliere, health enews contributor, is a seasoned communications professional with over 15 years of experience in the health care industry. Carla has a BS degree in Mass Communications from the University of Minnesota Mankato. In her free time, Carla enjoys spending time outdoors with family and friends.