Flamenco dancer's passion for dance reignited after surgery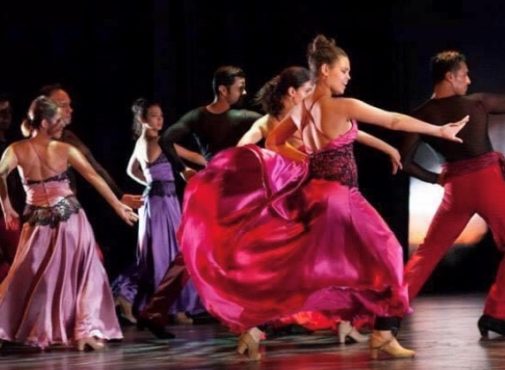 Abigail Ventura couldn't imagine her life without dance. Her love for music and dance started when she was just a toddler.
Fast forward more than 25 years later, Ventura is now a professional dancer who specializes in Spanish styles of dance like flamenco and teaches instructional dance at a local dance company. One day, she started feeling minor pain around her hip and groin area.
"Growing up, I was always super active. Before I became a professional dancer, I was a competitive gymnast and cheerleader in high school, so I thought I had pulled a muscle and just worked through the pain," Ventura says.
The days stretched into months and into four years, and throughout that time, her pain became more and more aggressive. Eventually, Ventura couldn't sit or do more than 30 minutes of dance without experiencing excruciating pain.
When it began to impact her dance, that's when she decided it was time to seek professional help from Dr. Ritesh Shah, an orthopedic surgeon specializing in hip arthroscopy and minimally invasive hip and knee reconstruction at Advocate Illinois Masonic Medical Center.
"We discovered Abigail had a labrum – also known as cartilage – tear in her hip. Unfortunately, this type of tear is very common, particularly among younger, active patients," Dr. Shah says. "Not only are these patients dealing with the physical pain of the tear, but also the emotional toll of not being able to do the things they enjoy, like dancing, running or playing sports."
 And that's exactly what Ventura experienced. Dr. Shah performed an outpatient hip arthroscopy, a minimally invasive procedure to repair labrum tears and any structural issues that may have caused the tear in the first place.
The procedure went so well, Ventura recently return to Advocate Illinois Masonic to have Dr. Shah perform the arthroscopic procedure on her other hip. She is now recovering and looking forward to returning to dance in full force.
"I'm feeling fantastic and excited. After the first surgery on my right hip, I felt so strong and went back to dance for a few months before COVID hit. I felt good in rehearsal because my right leg would keep up and everyone saw a big improvement. Once I had my left hip surgery, I knew I was going to reach my full potential," Ventura says.
 While she is no longer dancing or instructing in-person, she is looking forward to leading instructional dance classes virtually.
 "It is amazingly gratifying to see Abigail return to dance," says Dr. Shah. "As an orthopedic surgeon, the most important message I can share is to recognize pain early on and see a specialist for help. Hip pain is very easy to overlook or disregard. The COVID pandemic has made it even harder for some to seek medical help for their pain. It has never been safer to return to a doctor's office, and I implore everyone to not hold off on seeking out the care they need to live life to the fullest."
Related Posts
Comments
About the Author
Nathan Lurz, health enews contributor, is a public affairs coordinator at Advocate Good Samaritan Hospital. He has nearly a decade of professional news experience as a reporter and editor, and a lifetime of experience as an enthusiastic learner. On the side, he enjoys writing even more, tabletop games, reading, running and explaining that his dog is actually the cutest dog, not yours, sorry.