'Despite the distance, it's important we maintain our sense of family'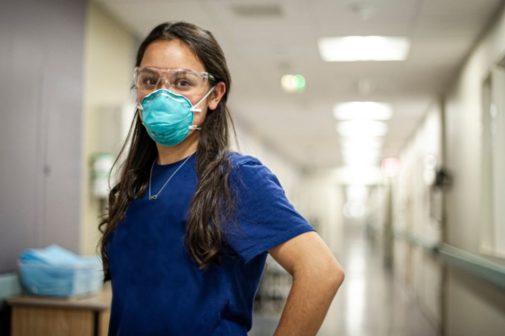 When you're a mom, finding last-minute care for kids isn't always easy. But that's exactly what Danielle Cervantes did to answer the call for nurses to help out during a COVID-19 surge in Green Bay, Wisconsin.
"As a mother, I raise my children to understand that if you can help, you have to help," Cervantes said. "It was a no-brainer for me."
Cervantes quickly rearranged childcare for her son and daughter before driving hours north from her home in Illinois. She's one of many Illinois-based Advocate Aurora Health nurses who stepped up to help as Wisconsin began experiencing higher patient volumes amid another wave of COVID-19.
When the staffing effectiveness team at Advocate Lutheran General Hospital in Park Ridge, Illinois asked a pool of float nurses to relieve staffing needs in Aurora BayCare Medical Center, the response was overwhelming. Dozens upon dozens of ICU nurses – many of them who benefitted from the selflessness of Wisconsin nurses during the Illinois surge in April – were willing to spend their few days off putting in the work to pay it forward.
Adem Perezic, a first-year nurse who has been caring for COVID patients at Advocate Lutheran General from the beginning, hopped in his car and traveled north too. He was eager to return the favor.
"Patients with COVID-19 are incredibly difficult to care for," Perezic said. "At one moment, they could be perfectly stable and then, within the blink of an eye, they are rapidly deteriorating. At that point, the only thing that stands between that patient and the loss of life is us."
Perezic explained that while the facility he volunteered at, Aurora BayCare, was about a fourth of the size of his home hospital, the COVID patient numbers were equal at the time.
"Despite the distance, it's important we maintain our sense of family. The virus doesn't take into consideration where you come from, who you are or what borders you crossed on your way – neither should our care. Nobody can do this job alone and nobody should have to," Perezic said. "Our best resource and our best chance at providing top-notch, quality care lies in one another."
It's a sentiment Cervantes echoed. After three 12-hour shifts at her home unit, she spent four days in Green Bay. Following Illinois' spring surge, she was confident in her abilities to handle high volumes of COVID patients and wanted to share her knowledge. When she arrived, she found her skills were needed on a different unit. Still, Danielle says it was an opportunity to learn and connect with fellow nurses.
"The nurses in Green Bay taught me more than I could have ever taught them. They were accommodating, gracious and never made us feel out of place," Cervantes said. "The entire experience speaks to the culture that our system has instilled in us. From Green Bay to Park Ridge, we are one."
Related Posts
Comments
About the Author
Kelsey Sopchyk, health enews contributor, is a media relations coordinator at Advocate Aurora Health. She earned her BA in journalism and mass communications from the University of Iowa. In her spare time, you can find Kelsey tending to her plant children, trying new sushi restaurants in Chicago and cheering on the Cubs.