Helping COVID-19 patients from Kenosha to India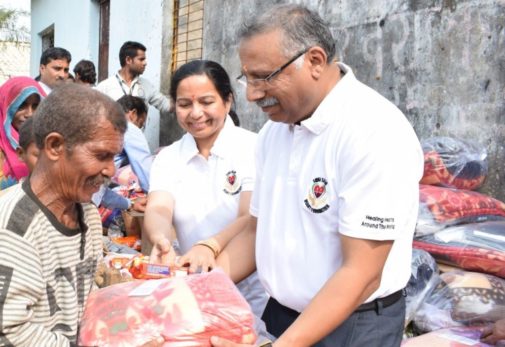 For one cardiologist at Aurora Medical Center in Kenosha, care for COVID-19 patients extends the Midwest to the other side of the world.
Dr. Prakash Shah and his wife, Sona, have been providing medical care to people living in poverty in developing countries for 20 years. Three years ago, they created the Sona Shah Heart Foundation to save lives around the world by providing access to quality health care for those in need. Through the foundation and the work of Dr. and Mrs. Shah, more than 5,800 people have been treated and given continued follow up treatment every six months. In November 2019, Dr. Shah traveled to Chitrakoot, India with several other Aurora physicians from various disciplines. In just eight days, they worked long hours and saw over 2,500 patients.
"My father was very involved in charity work," Dr. Shah says. "I even met Mother Theresa when she won the Nobel Peace Prize. After I graduated medical school, I knew I had to find ways to help out."
Since the onset of the global pandemic, Dr. Shah and the nurses he trained in India have had to pivot. A new camera was installed in the intensive care unit in Chitrakoot, allowing Dr. Shah to provide guidance remotely from the United States. Many clinics are held on Sunday afternoons in India, with Dr. Shah joining by video when it's one in the morning here in the U.S.
In Kenosha, Dr. Shah continues to treat COVID-19 patients who are experiencing further complications related to their hearts. India has been hard hit by the pandemic, too. Each morning on the way to the hospital, Dr. Shah calls to check in on patients across the world, make medication adjustments and regularly consults his Aurora colleagues for the best way to treat those in India.
"It's nice to have an expert panel willing to help the other end of the world," he says.
Seeing COVID-19 affect patients in his own community and across the world, Dr. Shah wants to make sure people take it seriously.
"We've seen patients as young as 30 years old on a ventilator. It can happen to anyone," he says.
Related Posts
Comments
About the Author
Ben Hoekstra is a public affairs coordinator with Advocate Aurora Health. He previously worked in marketing and PR for various Milwaukee nonprofits and received his master's degree in Corporate Communications from Marquette University. He enjoys the outdoors, cooking, and all things Milwaukee.