ICU nurse finds gratitude in the time of COVID-19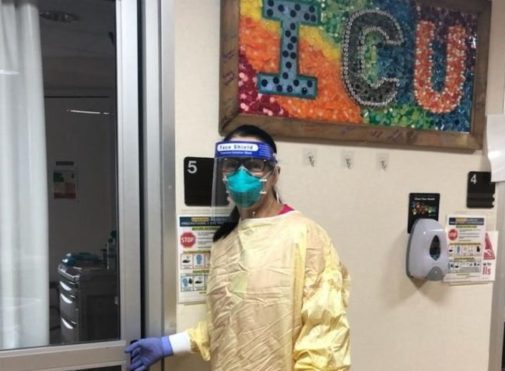 It's hard to imagine that a health care hero working on the front lines during the COVID-19 pandemic would have much to feel grateful for this holiday season. But you should meet Cheryl Breitlow, a registered nurse who began her medical career 38 years ago with Aurora Health Care and has remained here ever since.
Today, she works in the intensive care unit (ICU) at Aurora Medical Center Washington County in Hartford, Wis. And she is grateful for the opportunities nursing gives her to connect with people.
"I learn life lessons as I hear life stories and witness life events of people… people struggling physically or mentally and people triumphing," Breitlow says. "Nursing is INTERpersonal, and I love that."
With COVID-19 continuing to ravage her community, Breitlow and her colleagues have had to adapt to new challenges. They are working more and longer hours, and working harder as they follow additional guidelines that are always changing.
"Visitor restrictions have made patient care even more challenging," she says. "Front line caregivers are aware that we are the patient's world for the short term. We need to be present!"
Now, more than ever, Breitlow has had to focus on the interpersonal nature of her job. One life lesson she has learned is that Cheryl has seen how helpless families feel when they can't be with their loved ones in the ICU because of COVID-19. With these limitations in place, Cheryl she a greater value on every phone call she makes to her patients' loved ones.
"I have tried to make these phone calls not only medically informative, but also personally touching," she says. "I like to repeat words expressed by the patient about their loved ones and vice versa."
Despite how hard this year has been, she remains proud and grateful.
"My heart is filled with gratitude as I see administration work hard to assure our safe," she says. "My heart is filled with gratitude as I work closely with a physician, nurse practitioner, fellow registered nurse or respiratory therapist to care for these critically ill patients. My heart is filled with gratitude as all departments work together and smile even when out of our comfort zone. My heart is filled with gratitude as I leave, knowing I made a difference and knowing that those following me will make a difference, too."
While everyone is eager to make plans to be with family over the holidays, being an ICU nurse in the time of COVID-19 has impacted her life outside of work.
"We all have those people in our lives that we love and whose safety during this pandemic we are most concerned about. My daughter is pregnant and my mother is 80 years young. I am very conscious to keep them safe."
As you make your holiday plans, please consider the health and safety of those around you.
"This is real. Please follow the guidelines that will protect yourself, your family and your friends. Please stay safe so we can get back to living the lives we love."
Related Posts
Comments
About the Author
Carla Basiliere, health enews contributor, is a seasoned communications professional with over 15 years of experience in the health care industry. Carla has a BS degree in Mass Communications from the University of Minnesota Mankato. In her free time, Carla enjoys spending time outdoors with family and friends.