2020 has been quite a first year to be a nurse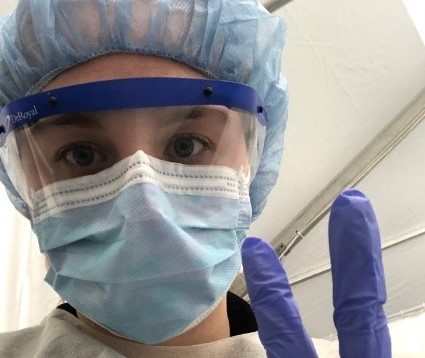 Aurora nurse Sarah Wojahn doesn't fit into one category. She is a newly licensed nurse recognized for having the professionalism and confidence of a seasoned care giver. She is a hard-working nurse in the Wound Care and Hyperbaric Medicine department, where she excels in her ability to connect with patients, yet she willingly stepped out of her comfort zone to help with the COVID-19 crisis.
All of this occurred in her first year of being a nurse.
Wojahn joined Aurora Medical Center in Kenosha, WI, in August 2019. Six months into her new job, COVID-19 took hold. She did not hesitate to volunteer to do screenings, work in the emergency department triage tent, the surge tent and shadow on MedSurg units.
"I volunteered to work in multiple needed areas during the beginning of the COVID-19 crisis because I wanted to help out in any way possible and feel like I was making an impact," Wojahn said. "I watched the news and saw nurses volunteer to leave their lives and go work in surging states like New York. I admired their bravery and strength and wanted to do what I could in my organization to make a difference in fighting this pandemic."
During the pandemic, Wojahn's nurse team and work colleagues have become family.
"I haven't been able to see my family in person since the pandemic started," she said. "With holidays coming up and the uptick in COVID cases, it is extra difficult. I keep my spirits up by using technology like Skype, Facetime, and phone calls to keep in contact with family. I also often lean on the support of my coworkers and manager during these challenging times to keep my spirits up. Even when days are challenging, we can still have a laugh together and focus on the positive."
Firsthand accounts testify to her ability to care for patients with compassion and skill, whether that is in her unit or at a screening tent. Her courage, work ethic and desire to help earned her a Living our Values Everyday award this summer, just before her one-year anniversary. Her nomination stated, "Sarah is a great example of what it means to be a nurse:  She is compassionate, respectful and strives for excellence each day."
For Wojahn, the first year of nursing validated what she always believed about the nursing profession.
"I believe all nurses have a core trait, which is determination," she said. "Determination to carry on and care for others, even when the world seems to stop."
Related Posts
Comments
About the Author
Annette Guye-Kordus is a public affairs coordinator with Advocate Aurora Health.