What should you do if you think your child has COVID-19?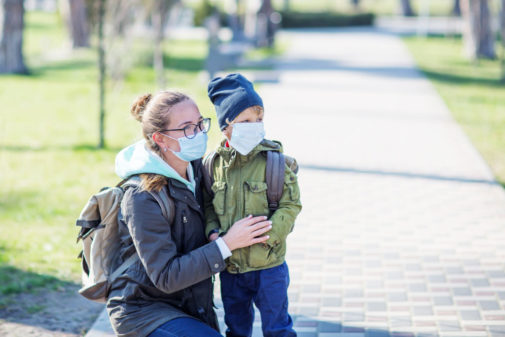 Unfortunately, there is no one way that the coronavirus presents in children. There can be lots of different symptoms that may or may not be COVID-19 related.
One child may present with nausea, vomiting and diarrhea, which also looks like stomach flu. Another child may have a sore throat, which can also look like strep. A third may have a croup cough, runny nose and perhaps a slight fever that may seem more like the respiratory flu. And other children may actually have COVID-19 with no symptoms.
"If your child is sick and appears to be getting worse, call your child's pediatrician," says Dr. Kevin Dahlman, Aurora Children's Health medical director. "While it is helpful to know if it is COVID in the midst of a pandemic, your child's health care provider can advise whether a test is needed and appropriate."
"Parents, children and pediatricians have a very special relationship," says Dr. Frank Belmonte,  Advocate Children's Hospital chief medical officer. "A child's pediatrician knows them the best. That's why it's important to seek their counsel if you have concerns about health and wellness issues, particularly in this COVID environment."
A pediatrician can evaluate and treat a child for the symptoms at hand and make a clear diagnosis.
Some tips for parents:
Call your pediatrician if your child has these symptoms: fever, cough, stuffy nose, sore throat, belly pain, vomiting, diarrhea, rash or dizziness.
Go to an emergency department if your child is having difficulty breathing, is confused, has severe chest pain, cold and pale skin or bad belly ache.
Call 911 if your child has labored breathing.
In doubt? Call your child's pediatrician. If you need a pediatrician, click here if you live in Illinois. Or if you live in Wisconsin, click here.
Related Posts
Comments
About the Author
Evonne Woloshyn, health enews contributor, is director of public affairs at Advocate Children's Hospital. Evonne began her career as an anchor and reporter in broadcast news. Over the past 20 years, she has worked in health care marketing in both Ohio and Illinois. Evonne loves to travel, spend time with family and is an avid Pittsburgh Steelers fan!