When a simple hug can be a recipe for healing from COVID-19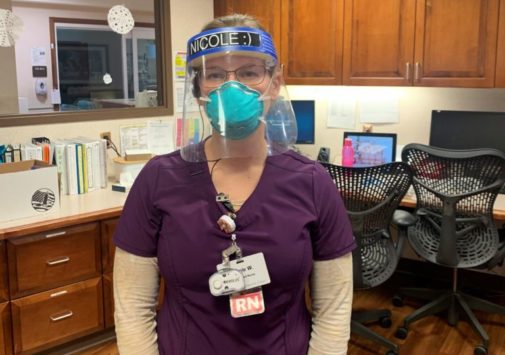 Since COVID-19 began, intensive care units have been particularly busy because those patients tend to stay longer than most – anywhere from two to six weeks.
Nicole Wagner, an ICU nurse at Aurora Medical Center in Manitowoc County, recalls a patient she treated for six-and-a-half weeks. Caring for the same person day after day and helping him to push past his boundaries was incredibly rewarding. Wagner became like family to the patient because visitor restrictions prevented his loved ones from being by his side – and she wasn't sure he was going to make it home again.
"At one point, he did get a little depressed and he said, 'I'm done. I don't know why you saved me,'" she recalled.
Wagner asked him if she could give him a hug and he said yes. Remarkably, the patient rallied and was able to be discharged in time for Christmas.
In her 20 years in health care, Wagner has never felt the emotional impact she's felt in the last year. She never imagined when the pandemic began how much she would care for her patients and how much it would hurt to lose one of them.
It's been a grueling but fulfilling year to be a nurse. But as hard as it has been, Wagner has never been more certain that this is exactly where she is supposed to be.
"My mantra is 'One person matters to someone and they all matter to us.' I was meant to do this," she said.
Related Posts
Comments
About the Author
Tami Hughes is a public affairs coordinator for Advocate Aurora Health. She attended college at the University of Miami and loves watching her Hurricanes play just about anything. She enjoys cooking and going to concerts with her husband. Her heart is made happy by her children, Neenah and Jack, and her dog child, Rizzo.