'It's been the toughest nursing year I've had'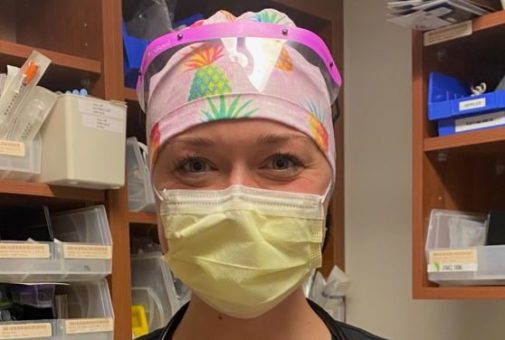 Emily Larsen's first experience with nursing was on the other side of it. Being part of a transplant patient's family for years, she saw just how big of an impact nurses had on her and her family and decided she wanted to have that kind of positive impact on others. Even after six years of nursing, nothing could have prepared her for this.
"It's been the toughest nursing year I've had. I've never felt more challenged mentally, emotionally and even physically," said Larsen. "Every day is unpredictable. We've seen quite a bit of death, quite a bit of loss. I know I'm going to be seeing COVID patients every day, but it could be a patient I saw walking the halls yesterday and today is on a ventilator. It's a tragedy."
Even in the middle of caring for COVID patients at Aurora Sheboygan Memorial Medical Center, Larsen does see some bright spots. She remembers one patient who beat the odds.
"I worked with a patient who was on a ventilator for quite some time. She was very young and something about her touched a lot of us more personally as we got to know her husband and her backstory," said Larsen. "It was a huge win for us was when she was able to go home and be with her family. She ultimately recovered from COVID."
While that story helps Larsen remain hopeful, she's had far too many patients with different endings.
"It's been hard. I feel like I needed to step in as this patient's family member or child or caregiver, someone who is there for them as the only person at their bedside as they face this illness," said Larsen. "It's heartbreaking that the family can't be there. I try to fill that void."
Larsen tries to find ways to care for her own mental health outside of work.
"The hardest for me is to be at home and not think about work. What I try to do is be mentally present when I'm at home with my family," said Larsen. "I like taking my dog on walks and trying to stay as active and busy as possible. As hard as it is to not think about that certain patient or patient family member, it's important to be present at home and enjoy the little things."
The support of family, friends and her coworkers goes a long way.
"My best friend that I met through nursing is also on a COVID unit in a different state. She sent me a little at-home spa package," she said. "I've gotten so much support from friends, family members and the community that I live in. It really is encouraging to know they are here to support us. My fiancé has also been my rock during these difficult times."
Larsen appreciates the support from loved ones and the community but reminds everyone that following guidelines to stop the spread is the best way they can help front line workers.
"This is real. Please take it seriously, not just for us but for your neighbors, your family members, your friends," said Larsen. "The only way this is going to end is if we all put in the effort together."
Click here for more stories about doctors, nurses and others working on the front lines.
Related Posts
Comments
About the Author
Ben Hoekstra is a public affairs coordinator with Advocate Aurora Health. He previously worked in marketing and PR for various Milwaukee nonprofits and received his master's degree in Corporate Communications from Marquette University. He enjoys the outdoors, cooking, and all things Milwaukee.