Should you wear two masks?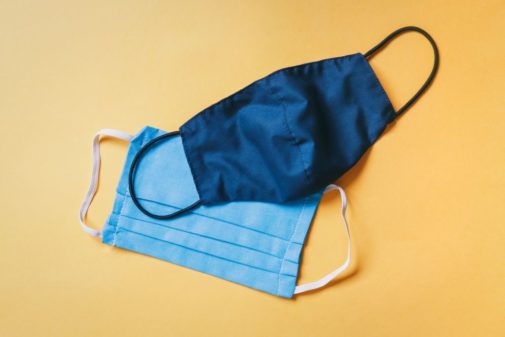 You may have seen someone double masking, often with a surgical mask underneath a cloth one, and wondered to yourself, "if wearing one mask is helpful, should I be wearing two?"
But does it provide extra protection from COVID-19?
"I don't know of any data that says double masking provides extra protection," said Dr. Minhaj Husain, infectious disease specialist at Aurora St. Luke's Medical Center. "I don't think it's harmful. If you're concerned and would like to do it, there's no problem there."
Wearing a cloth mask over a surgical mask may not provide any additional protection, but it could help in other ways. For some people, surgical masks can slip down and expose your nose. Wearing a second mask over it can help keep your mask in place and keep it clean.
While Dr. Husain does not see any problem with double masking, he says it's important to know that a single mask is very effective if worn correctly.
"If you are wearing your mask properly, with it pinched over the bridge of your nose and covering your nose entirely, that should be adequate," said Dr. Husain. "It's also important to know that masking is still protective from the new COVID-19 variants.
Whether you are wearing two masks or one, he reminds everyone to keep following other guidelines.
"Masks need to be worn in the context of social distancing and other guidelines," said Dr. Husain. "People wear it and assume they have the green light for gatherings or breaking social distancing, and that's not true. Masking is most protective when everyone around you is wearing it as well."
Guidelines like social distancing and limiting gatherings remain important to stop the spread of COVID-19. Masking does help, but it's vital to keep following other guidelines at the same time. Even as more of the population is vaccinated, Dr. Husain encourages people to keep masking up. He especially recommends surgical masks if possible, which can be found at your local pharmacy.
"There's a lot of mask fatigue. I get it," he said. "But while vaccinations are great and a tremendous protection from COVID-19, we still need to wear masks. Even if everyone you are with is vaccinated, we still need to keep wearing them. We're not at the point where we can take off the masks yet."
Read more:
The COVID-19 vaccine: Myths vs. facts
Can you get back to normal life after getting a COVID-19 vaccine?
Related Posts
Comments
About the Author
Ben Hoekstra is a public affairs coordinator with Advocate Aurora Health. He previously worked in marketing and PR for various Milwaukee nonprofits and received his master's degree in Corporate Communications from Marquette University. He enjoys the outdoors, cooking, and all things Milwaukee.