Physicians share what they've learned from children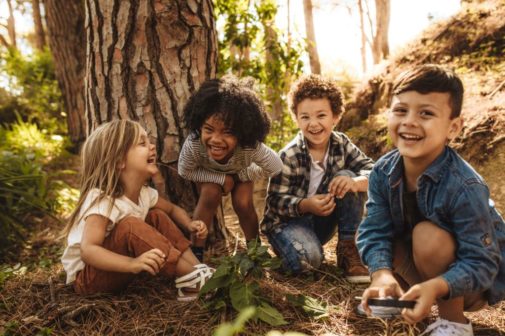 Times are tough, and things can certainly feel bleak sometimes. To brighten your day, we asked some of our pediatric experts what they've learned from children – whether their patients or their own children. Here are their sweet responses.
"Speak to kids at their level. Engage them and make them laugh. That is the best medication ever. A little endorphins go a long way. Have them become a part of the medical team. Unfortunately, with COVID and social and physical distancing, we are limited on hugs, but this is an incredible medicine for the patient, the parent and also for me!"
– Dr. Andrew Van Bergen, pediatric cardiologist
"With all the virtual learning and use of technology, our family has found new enjoyment with our old favorite board games – Monopoly, Clue, Sorry. What a great way to end a day with some family time and healthy real-time interactions."
– Dr. Kevin Dahlman, medical director, Aurora Children's Health
"Kids are very resilient. They've taught me family movie nights are always fun and something to look forward to for the weekend. The best fun is usually free, like playing in rain puddles or snow and taking walks."
– Dr. Markeita Moore, pediatrician
"We (adults) talk too much. It's amazing what you can learn with a little silence."
– Dr. Gabrielle Roberts, psychologist
"I've learned that a smile of recognition and happy "Hi!" from my patients when I come into the exam room really lifts up my day and adds warmth to my patient visits."
– Dr. Ashley Sabo, pediatrician
"One thing I've learned from my patients is how strong and resilient we are in our ability to persevere. No matter how difficult or challenging a day may be, you can always find a reason to smile."
– Dr. Adia George, medical director, Chicagoland Children's Health Alliance Immediate Care
"Seeing patients and families, past or present, recovering from critical illness brings more of what we all need right now… hope."
– Dr. Travis Matics, pediatric critical care physician
"As a pediatric pain specialist, I've had so many wonderful opportunities to listen to little ones tell their story. I've learned things that you may not have known about treating pain. For example, did you know that apple juice, unicorns, Minecraft, gummy bears, favorite stuffed animals and always my favorite – hugs – treat pain? Kids do not necessarily equate pain control to a pill or an IV medicine. They look at things much differently and purer. They focus on their suffering more than their pain. Suffering and pain are not the same. I can prove this by pointing out how many children with cancer have daily pain, yet they continue to go to school and smile. How many children after open heart surgery are walking around like nothing happened? I think we can learn a lot from children. Sometimes it's the little things in life that many times are ignored in our busy daily routines. Maybe it is just a really good cup of coffee, an 'I love you' and hug from your child, a laugh with a colleague, a good hair day or not having IT issues during a meeting!  In a world where everything has gone haywire, it's sometimes important to take a deep breath and remember what life is about: living. My 7 year old, my husband and I were just playing one night. My daughter turns to us and says "This is the best quarantine ever!" She was just happy to have us and our undivided attention. "Attention is the greatest form of generosity"- Simone Weil
– Dr. Diana Bottari, medical director, pediatric pain management, Advocate Children's Hospital
Want to read more stories like this? Subscribe today.
Click here for more stories about doctors, nurses and others working on the front lines.
Related Posts
Comments
About the Author
Holly Brenza, health enews contributor, is the public affairs coordinator at Advocate Children's Hospital. She is a graduate of the University of Illinois at Chicago. In her free time, Holly enjoys reading, watching the White Sox and Blackhawks, playing with her dog, Bear and running her cats' Instagram account, @strangefurthings.