A nurse practitioner creates a safe space for his patients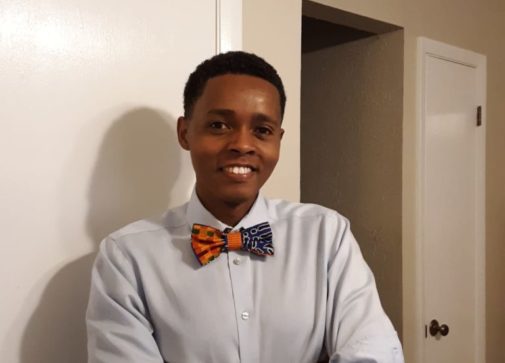 Before arriving in the United States to begin his college education, Kagamba Muiruri had to learn about the complicated role that race played in his new home. But in his role as a nurse practitioner in behavioral health at Aurora Sheboygan Memorial Medical Center, he says the color of his skin is a comforting and welcome sight for some of his patients.
"Even though I'm originally from a different continent, when I have patients who are African American, they are super happy to see someone who looks like them," he said.
Muiruri grew up in Murang'a, a small town north of Nairobi, Kenya. After finishing high school, he decided he wanted to experience something new, applying for universities from Australia to Europe to the United States. When he was accepted at a school in Green Bay, he started a new chapter of life.
After college, he worked as a scientist testing products in a lab. But when the recession hit in 2008, Muiruri made a change.  He had always been someone people confided in, even as a child, and he eventually found his way to nursing and specifically behavioral health.
"There are things you hear that my patients don't tell anyone else. I tell them it's ok to cry here because it's better than crying in Walmart Aisle 5," said Muiruri. "I try to give them a safe place to talk and we can come up with a plan together. A lot of times people have a plan in place and just need that validation."
Many of his patients have felt the effects of increased stress during the pandemic. For some, life has become incredibly unpredictable.
"A lot of people I work with are on the fringes of things. One day they had a job at a restaurant and the next day it was closed," said Muiruri. "We are learning that psychosocial issues like lack of food or money can affect our mental health."
Reflecting on Black History Month is unique for Muiruri, who grew up in Kenya and immigrated to the United States as an adult. The role of race has been something he can't ignore, and it's a topic he discusses with his two children, who have grown up in American culture.
"Having meaningful interactions with people from different cultures, you learn about them and, if necessary, you learn how to correct them or correct yourself. When we celebrate Black History Month, it's not a way of excluding other people but an attempt to point to where we've come from and what needs to be done," said Muiruri. "I hope that if we talk about this 100 years from now, we'll be a lot further ahead."
Click here for more stories about doctors, nurses and others working on the front lines.
Related Posts
Comments
About the Author
Ben Hoekstra is a public affairs coordinator with Advocate Health Care and Aurora Health Care. He previously worked in marketing and PR for various Milwaukee nonprofits and received his master's degree in Corporate Communications from Marquette University. He enjoys the outdoors, cooking, and all things Milwaukee.