Changing perceptions one person at a time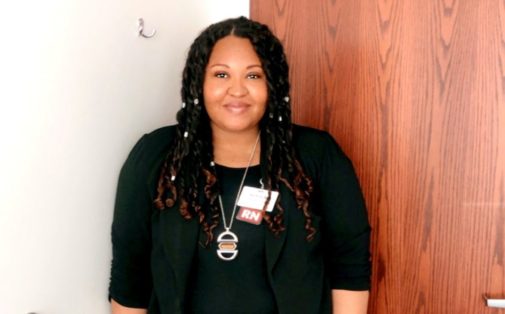 When Na Kita Butler decided to go back to school to earn her master's degree and become a psychiatric nurse practitioner, she did so with thought, intention and one major goal: to help bridge the gap in health care inequities in the Black community.
"Representation matters. Mental health is not something that we talk about very often, but in the Black community, there's a perception that you don't go to counseling," says Butler, a behavioral health registered nurse at Aurora Health Center in Oshkosh, Wis. "The stigma is that it's a weakness to need that extra help or support, and that's just not true. When I started seeing more Black patients coming in, I felt impressed and hopeful."
Butler explained that when a person goes through something as traumatizing as racial inequality, there is a certain comfort in talking to someone who truly understands and has had a similar experience.
"America does not have the best health care record with African Americans, with Black people, and I think we forget that," she said. "It's something that we have to be conscious of, that everybody has had a different experience. We can't dismiss anyone's experience, and we can't tell them they're wrong for feeling nervous about seeking help. But I can help build up that confidence and say to someone, 'I know this coworker, and I know they don't look like you, but they're great and can help you.'"
In addition to promoting diversity, equity and inclusion at work, Butler is also an advocate in her community, including on her social media accounts. During Black History Month she shared a post declaring that Black history is American history.
"In school, we heard how Black people were slaves, and Abraham Lincoln was a good man, and he freed them. And Martin Luther King Jr. did good things, and he was shot. And that's pretty much it," she said. "Black History Month for me is a time of reflection, education, taking advantage of the opportunities that have been provided to me because of what others have sacrificed, and just being grateful for that."
During times of heightened racial turbulence, such as the period following the harrowing murder of George Floyd, Butler's advice is to consider how people in the Black community are affected. To do better and be better as a whole society, she encourages and requests empathy, understanding and advocacy, and encourages allies to use their platforms to take a stand.
"When something happens to the Black community, it happens to me. You maybe can't relate to it, but just look at me; you say you love me, and it affects me, so I need you to do something," says Butler. "Use your voice, use your access to make the world better for everybody, but especially for those who have their voices squashed in different aspects. The only way we can fix things is by being open minded, communicating, and giving people an opportunity, and that includes mental health counselors, psychiatrics, psychiatric nurse practitioners, all of it."
Click here for more stories about doctors, nurses and others working on the front lines.
Related Posts
Comments
About the Author
Bonnie Farber, health enews contributor, is a communications professional in the Public Affairs and Marketing Operations Department at Advocate Health Care and Aurora Health Care. In her free time, Brianna enjoys living an active lifestyle through biking, hiking and working out at the gym, but even more than that, she especially loves spending quality time with her two cats (Arthur and Loki), son and husband.