Home Hospital program transforms care options for very sick patients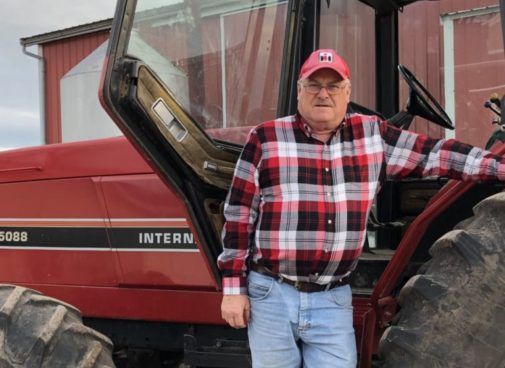 Danniel DeGrave, a 70-year-old retired Wisconsin farmer, hoped the symptoms that brought him to the hospital would lead to a diagnosis of "simple" pneumonia and not COVID-19.  "But it turned out that I did have the virus, and my oxygen level was not good," he says.
Concern for his own condition was complicated by worry about his wife, Linda, and his mother-in-law, who was in poor health and staying at their home after suffering a fall. "I was really hoping to go home, be with my family and stay out of the hospital."
Danniel got his wish and was able to get the care he needed in the comfort of his own home thanks to an innovative program launched by Advocate Aurora Post Acute Division in spring 2020 called Home Hospital, which provides high-level care to very sick patients in their home. Care is coordinated by advanced practice clinicians (APCs) and is provided by home health nurses.
"Created in response to the pandemic, Home Hospital is now playing a key role in Advocate Aurora's ability to care for increasing numbers of patients with COVID-19," said Becky Trella, a registered nurse and executive director of the Post Acute Specialty Programs, who leads the Home Hospital program.
The program was created during the early wave of the pandemic, when many Advocate Aurora Health hospitals were experiencing alarming surges in the number of patients needing care. Home Hospital provides an option for patients to get care at home, where they are safest, and reduces the burden on hospitals so they can take care of the sickest patients.
It continued to expand throughout 2020 and is now available to patients throughout Illinois and Wisconsin. There are a few requirements to participate: Patients are referred to Home Hospital from the ED or from Observation units, they must be in-network for Advocate Aurora Health at Home and they must have a physician to manage their care after discharge from the program.
Dawn Doe, registered nurse and vice president of Value-base Programs in the Post Acute Division, emphasized that the program's success also demonstrates its potential impact on patients with a range of serious illnesses.
"Importantly, Home Hospital supports our belief that home is the best place to receive care whenever possible," she said.
Patients can receive home oxygen and benefit from remote health monitoring with equipment that includes a thermometer, a blood pressure monitor and a pulse oximeter.
"I felt completely well cared for," Danniel says. "My nurse was wonderful. She visited every few days and we developed a great relationship."
In between in-home visits, Danniel got calls on an iPad from Leana Peterson, an advanced practice registered nurse and the APC who coordinated his care. Depending on the severity of their condition, Home Hospital patients will either have real-time remote monitoring for values, like oxygen saturation, or "visits" via iPad, like in Danniel's case, during which the caregiver will ask about the patient's symptoms, review medications and review breathing patterns.
"That part of the program was wonderful," Danniel says. "In between my nurse's in-home visits, I got the calls from Leana on my IPAD. I could see her, and she could see me. Even though we were far apart on those calls that gave me a feeling of connection."
Home Hospital has had a strong impact on Advocate Aurora's ability to ensure responsive care during the COVID-19 pandemic. To date, more than 350 patients in Illinois and Wisconsin have recovered or are currently receiving care through this program.
Being home was important to Danniel DeGrave, who has now recovered and is back enjoying his life as a father of eight and grandfather of 15. He points out that the Home Hospital team was also very supportive of his wife and helped her facilitate her mother's admission to hospice and transfer to an assisted living facility in nearby Green Bay. During Danniel's discharge visit, the DeGraves were emotional in expressing their appreciation for the program team. "They were caring for our whole family," Danniel says. "That meant a lot to us."
Related Posts
Comments
About the Author