'What she did was done purely out of love'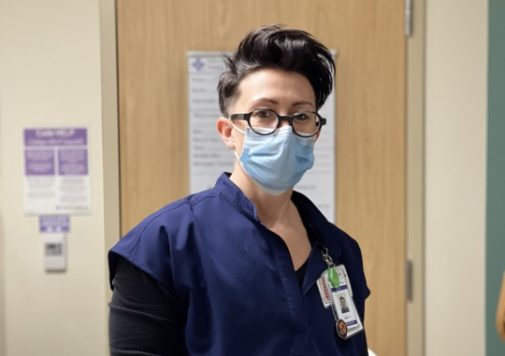 When the survival of one of her COVID-19 patients at Advocate Trinity Hospital, in Chicago,  looked bleak, travelling critical care nurse April Frontiera used her own money to purchase a round-trip ticket to fly the patient's only living sister to Chicago from North Carolina – because she believed her patient's life depended on that visit.
"I could see how the patient would perk up whenever we had her sister on the phone," Frontiera said. So when the patient's condition worsened, Frontiera called the sister, Vanessa McKinney. "I asked the sister if it was health, financial or work-related reasons why she couldn't visit in person."
It turned out that McKinney and her older sister, Marion Donley, were physically separated because of health and financial issues. An in-person visit would be the first time the two would be together in nearly 5 years.
Without a second thought, Frontiera purchased a round-trip plane ticket that would reunite the pair for as long as they wished.
"Nurse April called me and said 'I have an offer for you and I hope you can take it…anything you need taken care of that might prevent you from getting on that flight, you let me know'," McKinney said.  "From then we just chatted, and I felt like she knew me."
Not only did Frontiera fly-in McKinney, she also arranged a Lyft to transport McKinney to and from the hospital to visit her critically-ill patient, despite her own grieving — Frontiera's aunt, her mother's only living sister, died from non-COVID causes the day McKinney arrived in Chicago.
When asked why she intervened, Frontiera said it was because she loves Advocate Trinity Hospital and the South Side Chicago patient population it serves. She also said she wanted to really stop and think about the patient's perspective as well as the family
"Replacing the touch of [patients'] loved ones as they struggle to take their last breath has an emotional effect that will stay with you forever. I would leave work, get in my car and just break down crying because their family members could not be there or because I had to call and tell them the patient expired and share their last words to their kids and loved one," Frontiera said.
However, in Donley's case, Frontiera was determined not to let that happen.
"I hope that the silver lining in this story can be spread to all frontline health care workers and to the family members who have lost loved ones due to COVID-19," Frontiera added.
Thanks to April's compassion and tenacity, the sisters' reunion sparked the patient's recovery. Donley's condition improved immediately, and family members attribute the healing to McKinney's presence.
"I see her as a soldier out here on the battlefield, continuing to rise outside of her own pain," McKinney said, adding "I wish there was something I could do to show this woman how much we appreciate her. What she did was done purely out of love. It was love and that is what God is."
Donley is now recovering in a rehab facility.
Click here for more stories about doctors, nurses and others working on the front lines.
Related Posts
Comments
About the Author
Cassie Richardson, health enews contributor, is regional coordinator on Advocate Aurora Health's Public Affairs team. She has more than 10 years of experience in health care communications, marketing, media and public relations. Cassie is a fan of musical theater and movies. When she's not spreading the word about health and wellness advancements, she enjoys writing fiction.